Hanno was a gift to Pope Leo X from a Portuguese king (who also sent the pope an unlucky rhinoceros).
What can God do in your life with one Bible verse a day?
Subscribe to Aleteia's new service and bring Scripture into your morning:
Just one verse each day.
Click to bring God's word to your inbox
Annone – known as Hanno, in its anglicized form – arrived in Rome in the winter of 1514. He was the first elephant to set foot in the Eternal City since the fall of the Roman empire. That, of course, made him quite popular. After all, every single Italian remembered the story of Hannibal crossing the Alps with his army of elephants to besiege Rome. That, and the fact that Hanno was sent as a present for Leo X, who had been elected pope just the year before, in 1513. Everybody wanted to get a glimpse of the new "pope's pet."
Hanno arrived in Rome from India, via Portugal. In fact, it was the Portuguese monarchy who thought giving the pope an elephant was a good idea. After all, they had already sent parrots, monkeys and leopards to previous popes. Those were the days when the Portuguese were active traders both in India and the West Indies, almost holding all control of spice trade and sea routes. It was only natural that when Lorenzo de Medici became Pope Leo X, the Portuguese king, Manuel I, tried to seize the opportunity to gain some political leverage, including the pope's blessing on Portuguese colonial expansion. Egypt controlled some of the routes, but also Jerusalem, and threatened to destroy the holy sites if the pope dared to side against them.
Knowing that, Manuel I sent the Pope everything he could think of. The list published by Atlas Obscura includes "textiles, a gold chalice, brocade altar covers, treasures wrought with gold and jewels, a cheetah, leopard, parrots, strange dogs and a Persian horse. And Hanno."
As Hanno arrived in Rome, he "dropped to his knees and bowed his head low upon reaching the pope, before lifting back up to trumpet three times in the air. Then he sucked water into his trunk and sprayed water down on everyone assembled—including the pope, who thought the whole of the elephant's performance delightful," wrote Sarah Laskow in her article on Hanno. But sadly, Hanno did not enjoy a long life: arriving in Rome at the age of 4, he died three years after that, aged 7. He developed some respiratory insufficiencies, and was given the wrong prescription. As Leo X mourned the animal, he hired Raphael Sanzio to paint a mural commemorating Hanno, who was buried under the Belvedere Courtyard in the Vatican, where he had lived for those three years.
A year later the ever-generous King Manuel sent Pope Leo X a rhinoceros named Ganda that he had received as a gift from the Sultan Muzaffar Sha II of Cambay in India. According to an account from the University of Warwick's website, King Manuel had decided to test the Roman historian Pliny's theory that rhinos could best elephants in a fight. When the two beasts were pitted against each, other the elephant fled, seemingly proving Pliny's theory correct.
According to Professor Giorgio Riello of the University of Warwick's Department of History,""Manuel eventually got bored with the rhino and decided to send it to the pope."
Sadly, Ganda the rhino never made it to Rome. When a sudden storm hit, he was shackled to the deck, and unable to save himself from a shipwreck off the northern coast of Italy. His memory lives on, though, thanks to a portrait by the artist Albrecht Dürer, who painted the rhino based on descriptions and a sketch found in letters sent by merchants who had seen it in Portugal. The image is one of the most recognizable in art history, and has been reproduced in statues in ceramics for centuries, and even inspired Salvador Dali who had a copy of Dürer's Rhinoceros  hanging in his home.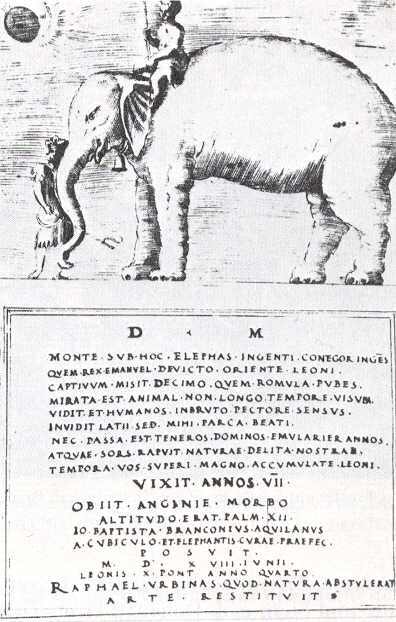 Launch the slideshow
If you want to read Sarah Laskow's full article on Hanno, as published at Atlas Obscura, click here. Ganda's story will appear in a new book by Professor Riello in Spring 2018.