Let's approach Our Lady this Lent as Mary, Lover of the Word.
The Annunciation has been depicted a thousand different times through the centuries, but the vast majority of images have a few things in common. An angel is appearing, Mary looks humble and—almost always—she's got an open book in front of her. At the moment Mary was invited to reverse the sin of Eve, the artistic tradition tells us, she was studying Scripture.
It's a remarkable thing to ponder, what Mary's Bible study would have looked like. Because when Mary opened the Word of God, it was the first time in history that a mind unclouded by sin meditated on Scripture.
If you've spent any amount of time studying the Bible, you know that it's not always (or even usually) a walk in the park. Blessed John Henry Newman described it as, "a book so complex, so unsystematic, in parts so obscure, the outcome of so many minds, times, and places."
But Mary's mind was clear and her heart in tune with the Father's. When she read the Word of God, she understood what he was saying.
To a point.
Throughout the Old Testament, there are promises. There is foreshadowing. There are direct prophecies. But even understood perfectly, the image they were constructing was obscured. There was a light that needed to be cast on the Hebrew Scriptures to make all that God was doing come together into one beautiful picture.
I expect that Mary pored over the Scriptures as a child, thinking about God's promise that he would save his people. Tradition tells us that she lived in the Temple from the age of 3 until 12, and I picture some good-natured priests, maybe her cousin Zechariah among them, chuckling over the tween girl earnestly comparing Genesis 22 to Psalm 22 while she twirled a stray lock of hair. I can see her brilliant mind cataloguing all the prophecies and promises but still coming up short.
Read more:
The 4-step formula for reading and digesting scripture: Lectio Divina
Until the angel of the Lord declared unto Mary. He told her that the virgin would indeed be with child, the Son of the Most High, to sit on the throne of David forever. With that, the light was switched on, the missing piece thrown into place.
Certainly, after the Annunciation Mary would have wanted to pray, to talk to her parents, to break the news to Joseph. But, as a rather bookish girl myself, I expect she also wanted—desperately—to read. She wanted to look at 2 Samuel 7 and Isaiah 7 and Deuteronomy 18. At some point, the first sword would have pierced her heart, as she realized that the tiny life in her womb was the Lamb of Exodus 13, the Suffering Servant of Isaiah 53.
From the day of the Annunciation, I think Mary was desperate to read the Bible, to learn about her Son and Savior, to see the heart of the Father and to marvel at how Providence had turned centuries of evil to good.
The Church doesn't officially teach that Mary could read or that she was a brilliant Scripture scholar. Other than her Magnificat in Luke 1, there's little in the Bible to suggest it. But this is the image of Mary that drives me to Scripture. This is the way I want to hunger for God's Word. I think of her wonder and delight at finding hints in Wisdom and Malachi, and it sends me back to the footnotes, longing to become a woman like Mary, a woman of the Word.
As we begin Lent this week, as we finalize our Lenten commitments, let's keep this image of Mary in front of us: Mary, Lover of the Word.
If we approach Scripture in imitation of Mary, eager and expectant, we may find God there just as she did. Mother of the Word Incarnate, pray for us, that like you we may seek him with our whole heart and find him speaking to us in Scripture.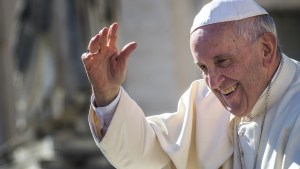 Read more:
Pope says contact with Scripture will bring you two qualities you might need today