Rest assured, motherhood is not for the faint of heart.
Nobody goes into motherhood expecting it to be all heartwarming moments and hallmark sentiments. At the very least, we remember our own mothers tearing out their hair and promising that "When you have your own kids, you'll understand!" Just the experience of pregnancy is enough to remind even the most idealistic woman that being a mother demands everything you've got. You're going to have to put somebody else first, pretty much forever.
So the words "selflessness, sacrifice, patience, love" have been on my radar since my son was born. I'm always painfully aware of how I fall short of these ideals. But there's another virtue I'm trying to remember, because this one encourages me, instead of laying on the guilt: courage.
When I need to get my toddler back into his bed at 4 in the morning? "Courage," I mutter to myself. When my family needs me to shut my computer and acknowledge their presence, but all I want to do is get lost in the brightly-lit oblivion? "Courage." When that diaper can't be put off any longer? "Courage, mama. You got this."
It's odd, acknowledging that these minor, mundane details require some amount of bravery from me, but the word is exactly right. After all, courage is when you face up to something that scares you.
I know, it sounds melodramatic in the extreme. How does unloading the dishwasher or reading that awful board book one more time qualify as a scary thought? Well, it's not that it takes much grit and bravery to put off my Facebook habit for five more minutes — none of the things I do on a daily basis are particularly hard in themselves. But then, nothing in my life is an isolated incident, either. Everything my family needs, it needs over and over again. Each little sacrifice isn't that scary in itself, but all together, it becomes kind of a big mountain. A life which, day and night, requires unwavering love and service, legitimately is frightening. It's frightening because it's such a huge commitment.
It's so important for mothers to acknowledge how scary our vocation is. When I take a breath and say, "Courage!" to myself, I'm acknowledging the difficulty of what's being asked of me. It's a whole lot better than my usual habit, of irritable self-accusation. "Oh for heaven's sake," I'll say, "How hard it is to change that diaper now instead of later?" When I started understanding that I'm being called to be brave (in addition to selfless, patient, sacrificing, etc.), I was reminded that if it's hard, it's not because I'm weak, or lazy, or selfish.
So yes, it takes actual courage to set the table, or fold the laundry. Each little part is an important element of a vocation that requires everything you have to offer. So mothers — when doing one more little thing seems impossible, remind yourself how courageous you can be, and give it what you've got. And don't forget to give yourself the credit you deserve.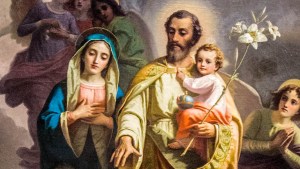 Read more:
St. Joseph was more than "righteous"; he was courageous