Enrich your Lent with these lesser known devotions in memory of Christ's Passion.
Need an idea for Lenten almsgiving?
Help us spread faith on the internet. Would you consider donating just $10, so we can continue creating free, uplifting content?
Make a Lenten donation here
Lent is a special time in the Church's calendar when a particular focus is placed on Christ's Passion and death. It allows us the opportunity to meditate on Jesus' suffering, while recognizing our sinful role in his crucifixion.
As the Catechism of the Catholic Church spells out plainly, "the Church has never forgotten that 'sinners were the authors and the ministers of all the sufferings that the divine Redeemer endured' … the Church does not hesitate to impute to Christians the gravest responsibility for the torments inflicted upon Jesus." This reality is not meant to drive us into depression, but to help us acknowledge the pain our sins cause the One whom our hearts desire.
Over the centuries various devotions were developed to highlight this fact and to arouse within the faithful a deep sense of sorrow for sin. Lent is a time to "repent and believe in the Gospel" and meditating on Jesus' passion is one way to awaken us from our spiritual slumber and turn us toward God.
Here are three powerful devotions from the Raccolata that can help in that regard and are most appropriate during the Fridays of Lent.
Kneel down at 3:00 to pray 5 Our Fathers and 5 Hail Marys
In a local Church council held by St. Charles Borromeo, archbishop of Milan, it was decreed that the church bell should ring every Friday at 3:00, to remind the faithful of the Passion of Jesus Christ at that hour. This devotion was very popular and Pope Benedict XIV extended the practice to the universal Church. He declared in 1740 that all churches should ring the bells of their churches every Friday at 3:00. He also invited the faithful to kneel down and say five Our Fathers and five Hail Marys in memory of the Passion and agony of Jesus Christ, praying for the intentions of the Holy Father and the conversion of sinners.
Meditate for 3 hours on the Passion of Christ
In recognition of Jesus' love for humanity and his intense suffering for three hours on the cross, a priest from Lima, Peru, Father Alphonsus Messia, developed a particular devotion in the 18th century. It consists of devotional exercise on Good Friday or any other Friday, where a person meditates according to their abilities on the sufferings of Jesus Christ during the three hours he hung on the cross. The exercise begins at 12:00 noon and ends at 3:00. A person may meditate on any aspect of the Passion, such as the last seven phrases of Christ or his sacred wounds, using a spiritual book or biblical commentary or led by a priest.
Pray this prayer of St. Pius V
O my Lord Jesus Christ crucified, Son of the most Blessed Virgin Mary, open Thy ears, and listen to me as Thou didst listen to Thy eternal Father upon Mount Tabor.
O my Lord Jesus Christ crucified, Son of the most Blessed Virgin Mary, open Thine eyes, and look upon me as Thou didst look from the tree of the Cross upon Thy dear Mother sorrowing and afflicted.
O my Lord Jesus Christ crucified, Son of the most Blessed Virgin Mary, open Thy blessed mouth, and speak as Thou didst speak to St. John when Thou gavest him for son to Thine own most beloved Mother.
O my Lord Jesus Christ crucified, Son of the most Blessed Virgin Mary, open Thine arms, and embrace me as Thou didst open them upon the Cross to embrace the whole human race.
O my Lord Jesus Christ crucified, Son of the Blessed Virgin Mary, open Thy Heart, and receive therein my heart, and hear me in all that I ask of Thee, if so be it be agreeable to Thy most holy will.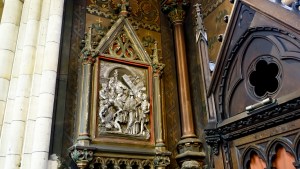 Read more:
Why are there Stations of the Cross in (almost) every Catholic church?