"The encounters take place in the utmost privacy, out of respect for the victims and their suffering."
The Vatican spokesman today responded to journalists, confirming that Pope Francis habitually meets with victims of sexual abuse.
Greg Burke was taking up questions that arose after the release today of portions of the transcript of the pope's meetings with his fellow Jesuits during his January trip to South America.
Burke said, "I am able to confirm that several times a month, the Holy Father meets with victims of sexual abuse, both individually and in groups. Pope Francis listens to the victims and tries to help heal the serious wounds caused by the abuse they have suffered. The encounters take place in the utmost privacy, out of respect for the victims and their suffering."
The statement responds to what Pope Francis said to the Jesuits, as he spoke of the shame of the Church.
In those meetings in Chile and Peru, the Holy Father recalled an experience he himself had as archbishop, when at an event in Argentina, a dad who saw him and realized he was a priest, called his young son away from him, saying, "Look out for the pedophiles."
"How ashamed I felt! What shame! They didn't realize that I was the archbishop; I was a priest, and… What shame!"
He said that the very low percentage of sexual abuse that is attributable to priests is secondary. "Even if it were only one of these, our brothers! Because God anointed him to sanctify children and adults, and he has destroyed them. It's horrible! All you need to do is listen to the experiences of someone who has been abused!"
He continued: "On Fridays—sometimes it's publicly known and sometimes it's not—I habitually meet with some of them. Their process [of recuperation] is very difficult; [the abuse] destroys them. For the Church, this is a great humiliation. It shows not only our fragility, but also, let's say it clearly, our hypocrisy. It's curious: the phenomenon of abuse has affected some new, prosperous Congregations. There, the abuse is always the fruit of a mentality tied to power, which needs to be healed at its malignant roots. There are three levels of abuse that go together: abuse of authority, sexual abuse, and financial misconduct. Money is always in the mix: the devil enters through the purse."
Read the transcript here, the fifth question.
Meanwhile tensions continue with the situation in Chile, where the sexual abuse scandal was among the hot topics of the papal visit.
Archbishop Charles Scicluna, appointed by the pope to re-examine the case of Bishop Juan Barros Madrid, will arrive in Chile in the coming days.
Scicluna first traveled to New York, to speak with one of the victims who accuses Barros of maintaining silence in the face of his abuse, Juan Carlos Cruz.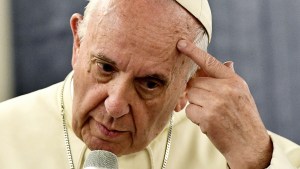 Read more:
Pope on sex abuse stir: "The expression I used wasn't the right one"