These holy men and women are a shining light in the Middle East.
While much attention in the Catholic Church is given to saints of Western Europe, it does not mean that saints are not found elsewhere. In fact, before there were ever saints in Europe, there were countless holy men and women born in the heart of Christianity in the Middle East.
This is where Christians have been living for thousands of years and where Jesus and his disciples first preached the good news of the Gospel. They are inheritors of a rich cultural tradition that is a beauty to behold and their witness in the midst of fierce persecution over the centuries is truly inspiring.
Here is a brief list of four inspiring Arabic-speaking saints who provide a luminous light in the Middle East.
St. Rafqa
Born on June 29, 1832, in Lebanon, Rafqa was urged by her relatives to marry at the age of 14, but she refused all proposals. She felt called to spend her life dedicated to God, and one day fled to the local convent. Through a series of events she joined what is now known as the Order of Saint Anthony of the Maronites. Rafqa then prayed to God that she could suffer like Jesus, and she became crippled and blind for the rest of her life. She led a life of holiness, and after her death many miracles have been attributed to her intercession.
St. Mariam Baouardy
Born in the Arab village of I'billin in 1846, Baouardy experienced great suffering in her life. After the death of her parents she lived with relatives who wanted her to marry. She accepted the proposal, but experienced a great vision on the night before the wedding that made it clear she was to dedicate her life to God. Her fiancé was furious and slit her throat, but she was miraculously rescued by a "lady in blue." She eventually became a Discalced Carmelite and received the stigmata every week from Wednesday through Friday. Later in life a vision she had helped identifying the location of Emmaus. Baouardy died in 1878 in Bethlehem and her miraculous life has been an inspiration to many.
St. Charbel
Charbel was born in 1828 in Lebanon and was raised in a poor shepherd family. As he grew Charbel was attracted to the hermit's life of the desert and eventually entered the Monastery of St. Maron in Annaya. He was faithful to his duties in religious life and drew closer to God every day. After many years Charbel felt God calling him again to become a hermit and was granted permission to live the rest of his life at a hermitage set on a hill near the monastery. Charbel died on Christmas eve at the age of 70, and when his body was later exhumed it was found incorrupt. Also, a holy oil was discovered flowing from the tomb, which has since been the source of numerous miracles.
St. Maron
It is believed that Maron was born during the middle of the 4th century in Syria. At some point in his life he became a priest and studied in Antioch at the same time as St. John Chrysostom, who sent a letter to Maron expressing his admiration of him. Maron then embraced a life of solitude and prayer near Aleppo and his holiness attracted many disciples. After his death Maron's spirituality became the basis of the Syriac Maronite Church of Antioch, now more commonly known as the Maronites.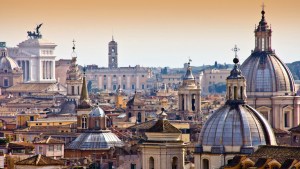 Read more:
What does it mean to be "Roman" Catholic?
Read more:
The Maronites of Aleppo: between the greatness of St. Maron and the tragedy of the Syrian war
Read more:
These miraculous oils continue to bring healing