Her life is a great example of how to get up from a fall with grace.
Ice skating can be a dangerous sport in whatever form it takes. One little mistake can lead to injuries that will last a lifetime.
Such was the case in the life of St. Lidwina. She was born in 1380 in Schiedam, Netherlands, and at the age of 15 suffered from a terrible accident.
During a particularly harsh winter, Lidwina was out skating with a few friends. Suddenly she fell and slammed onto the ice. The fall broke a rib and was sent home to her bed. Gangrene started to set in and eventually she became partially paralyzed for the rest of her life.
This turned out to be a "happy accident" and allowed her time to pray and offer her suffering to God. She drew closer to God in a deep relationship and was given many mystical visions. Lidwina was known by all in the town as a holy woman and healer.
One legend states that she was nourished only on the Eucharist for more than 19 years. When she died it is reported that she saw Jesus coming to administer the Last Rites.
Devotion to her spread rapidly after her death and a biography was written by Thomas à Kempis, who is famous for his popular spiritual classic, The Imitation of Christ.
While Lidwina's fall didn't allow her to ice skate again, it did provide an opportunity to deepen her relationship with God, similar to how St. Ignatius of Loyola discovered his mission in life after a battle injury.
God's ways are often mysterious, but one thing is certain, if we fall, God will always be there to pick us back up again.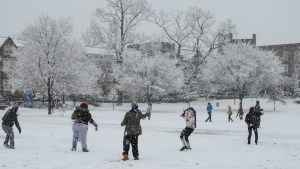 Read more:
Is there a patron saint of snow days?