Will Smith explains the vital distinction between knowing what's your fault and what's your responsibility.
Send us the names of your loved ones who are sick or suffering. The Aleteia prayer network of 550 monasteries will take them to prayer for the World Day of the Sick.
Click here to share your intentions
When facing the difficult, imperfect, and sometimes evil circumstances of the world and our own lives, it's often our first response to demand that someone take the blame. Whose fault is this? Who's to blame? If it's their fault, then they need to fix it, right? But the world isn't often as straightforward as that. Many difficult situations we encounter are not our own fault, but it's still been left to us to fix it.
In the video below, Will Smith identifies this difference, saying, "It really don't matter whose fault it is that something is broken if it's your responsibility to fix it. For example, it's not somebody's fault if their father was an abusive alcoholic, but it's for damn sure their responsibility to figure out how they're going to deal with those traumas and make a life out of it."
In our own lives and in our world, it's a lot easier to place blame than it is to take responsibility and start the work of fixing what's broken. But no one is going to do it for us. If we can't learn to separate the two, then we'll never change.
"Your heart, your life, your happiness is your responsibility, and your responsibility alone," he says.
Watch the video below to hear more.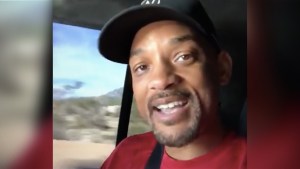 Read more:
Fail it forward: A quick note on success from Will Smith (VIDEO)