Great advice from an herbalist if you're plagued with a stuffy nose, chapped lips, or just feeling run down.
As those winter months drag on, with those chilly – even freezing – temperatures, it's no surprise that we may pick up a bug or two. Between colds, blocked noses, chapped lips, and other seasonal infections, we spend more time at the pharmacy than we do at the grocery store. So, to combat those winter niggles and get through those long days before spring arrives, we've got five natural and effective remedies suggested by Dr. Jacques Labescat, a French herbalist, homeopath, and osteopath, in his book My Prescriptions Based on Plants (Mes Ordonnances de Plantes.)
Feeling under the weather
To keep in good shape, we need to prepare ourselves. Not only do we need to try and keep physically fit – always tricky on those cold, wet days – we need to keep our insides in top form too. This means cleaning our digestive system from time to time. In fact "80 percent of our immunity is linked to our liver, gall bladder and the intestines," stresses Labescat. So, remember all that holiday over-indulging? Well, it's time to get back to some sensible eating and drinking.
Some fresh-squeezed lemon juice in a glass of warm water is a good way to start the day – although, dentists recommend not brushing teeth for at least 30 minutes after drinking the juice to avoid enamel erosion. Then take a dose of magnesium chloride, which you can easily find in a pharmacy; you can dilute a sachet in a two-pint bottle of water, and drink a glass each day. "It's at the same time rich in magnesium while an effective intestinal cleaner," explains Labescat.
Chapped and cracked lips
Here again, prevention is key. "We can avoid chapped lips thanks to our diet," points out Labescat. Pop some carrots, apples, and radishes in a slow juicer and drink a glass in the morning. The vitamin A present in the juice will help avoid those dry, sore lips.
Infections
To be in good shape over the winter months, it is essential to boost our immune defenses before the changing of the season – while you might be thinking it's a bit late now that winter is in full swing, just think of those summer colds! So, to build a stronger immune system Labescat advises taking some purple coneflower, or Echinacea. "This plant, with its hedgehog-shaped center, stimulates the immune system," says the herbalist. "It will help the body build anti-bodies, which are just as good at fighting bacterial infections as viral ones."
If you find some of this plant growing in your garden you can prepare an herbal tea with the flowers. If not, Echinacea can be found in capsule form in the pharmacy. Take daily for two months to really benefit from the effects.
Colds
If you've already got a slight cold then echinacea is equally effective. However, Labescat also recommends elderberry, or juice from dark berries. You can take it in the form of a syrup to complement the Echinacea.
Blocked nose
Finally, to get rid of a blocked nose, Labescat advises using tarragon essential oil — although he warns not to use the oil in its pure essential form. Dilute two drops of essential oil in ten drops of vegetable oil (macadamia or sweet almond, for example), and apply the mix between the nostrils.
Caution: As with all essential oils, tarragon must never be used by a pregnant woman, or a child under six years of age.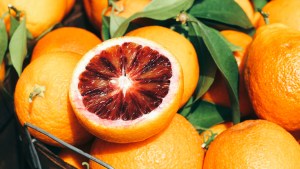 Read more:
4 Ways to boost your vitamin D levels and beat the winter blues
Read more:
5 Tips to save your lips from winter
This article was originally published in the French edition of Aleteia and has been translated and adapted here for English-speaking readers.