The people of Germany have their share of Lenten traditions that were passed down through the generations.
The holy season of Lent is commemorated in different ways all around the world according to local traditions. These various expressions have helped Christians incorporate Lent into their culture and embrace its spiritual character.
The people of Germany have their share of traditions passed down through the generations, many of which are widely celebrated throughout the world.
Here are four such traditions that stem from a rich German heritage.
Stronger beer and pretzels for the fast
While it may seem strange, monks in Bavaria were known for brewing stronger beer during Lent and only consuming it throughout the season as part of a strict liquid fast. According to some sources, they would name the beer names such as, "Delicator," "Triumphator," and "Animator." Also, while not originally developed in Germany, during Lent special bread was baked with water, flour and salt. It was made in the shape of a monk with folded arms in prayer and, according to Fr. William Saunders, "because these breads were shaped into the form of crossed arms, they were called bracellae, the Latin word for 'little arms.' From this word, the Germans derived the word bretzel which has since mutated to the familiar word pretzel." It was a way to be faithful to the strict fast of Lent, while being reminded of the importance of prayer.
Passion plays
The most famous Passion play in the world is from Oberammergau, and is a way many German cities remembered Jesus' suffering and death each Lenten season. It is a powerful visual representation of Jesus' Passion and helps the Christian faithful enter more fully into the events of Good Friday.
Stations of the Cross
Germany is another country where the stations of the cross grew in popularity over the centuries. It is where one of the first books was produced that had illustrations of the various stations in the Holy Land. It is a devotion that is often practiced every Friday during Lent.
A silent and solemn Good Friday
Good Friday in Germany is known as "Karfreitag," which is derived from a German word kara meaning "to grieve." It is a mournful day and Germans traditionally remain silent on this fateful day, spending it in prayer and fasting. Things such as dancing are prohibited on such a solemn day. It is also called  Stiller Freitag in some areas, again emphasizing the silent nature of the day when Christ was crucified. A single meal of fish is eaten with family on this day.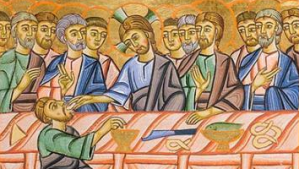 Read more:
Pretzels are 1400 Years Old
Read more:
4 Lenten traditions from your Polish grandma