They're a normal part of childhood, but here are some tip to help your child cope with them.
It's normal for children to go through periods when they wake up at night after a bad dream; startled, in tears, sometimes shouting or shaking, they are often left feeling anxious. While their imagination is developing, nightmares can become more and more frequent and distressing. They can be quite disturbing for both the child and the parents, who often feel powerless faced with the stress caused by these bad dreams. However, this phase is an integral part of a child's psychological development.
Although they are part and parcel of growing up, it's important for parents to understand the functioning and the origins of nightmares. This is crucial for them so that they can know how to behave and to reassure their scared children; it will also help them know how to recognize if there are signs that professional help is needed. Although to some parents this might seem extreme, others may question (depending on the frequency and intensity of the nightmares) whether their child's nightly behavior is within the range of "normal," or whether a little outside help might bring a little calm to their child's sleep.
In order to understand the mechanisms of these bad dreams, and the attitude to adopt when faced with them, we've gathered some information from sleep professionals to help you in your hour of need.
What is a nightmare?
A nightmare is a frightening dream that makes the dreamer wake up. Nightmares occur during the second sleep cycle, which is commonly known as rapid eye movement (REM) sleep. The person — your child, in this case — is capable of remembering it and is able to give a detailed account. However, falling back to sleep afterwards can prove difficult. Nightmares should be distinguished from night terrors, which happen more frequently during the first part of the night, and may be accompanied by hallucinations and mumbling or incoherent speech, and are generally forgotten upon awaking.
A general rule is that nightmares are the expression of a conflict or negative impression that your child has experienced as the result of a given situation, but has difficulty formulating explicitly. This can happen as the result of a family or social upheaval, such as moving to a new house, experiencing an illness, parental divorce, or the arrival of a newborn in the family. Through bad dreams, the day's emotions are expressed metaphorically.
Nightmares also enable children to enter the grownup world; they help them deal with their frustrations, needs, and fears. They are natural and necessary in their psychological development.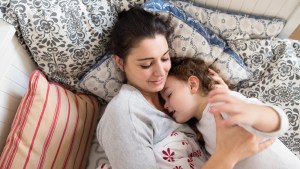 Read more:
The truth about babies and their "bad" sleep habits
What should you do when your child has a nightmare?
In the middle of the night …
To start with, keep in mind that, before three years of age, children cannot distinguish between reality and imagination. In the middle of the night, when the nightmare occurs, all you need to do is console them, switch on a light for a short time, offer a glass of water, and explain to them that you too had the same fears when you were a child. Whatever you do, don't brush their fears under the carpet, and however tempting it may be — especially in the early hours when you're feeling tired yourself — you should avoid sleeping in their bed, or taking them to yours: spend the necessary time to reassure them, but finishing the night with them will only comfort their fears for a short time, until they are alone again.
After the age of four, children will begin to understand better the difference between dreams and reality. When they wake up from a nightmare, go around the house with them, search the bedroom, and show that there is nothing dangerous — no boogeyman — lurking in the shadows. Reassure them that you are there to protect them, and they can go back to sleep peacefully.
The following day …
A French hospital in Lyon that specializes in sleep disorders, under the leadership of Professor Franco, welcomes children with difficulty sleeping — and their concerned parents — on a daily basis. They've come up with some very useful guidance for helping children cope with nightmares.
First of all, it is important to help children develop their ability to control their mental images, and to express their difficulties. This will help them to have better command of their nightmares, which up until this point will have seemed terrifying due to their lack of control. A good technique to achieve this is through drawing. In fact, it's recommended that children be helped to create a concrete image of their nightmare, and then discuss it, so they can gradually change the story to have a more favorable ending. We can also encourage them to scribble their anger in a drawing, and then cut it up and throw it away. (If they're not keen on drawing you can invite them to recreate the images from their nightmare with modeling clay and then get them to break it into pieces and completely squash it.)
Another option is to stick a poster of a superhero, a character that they love, or a photo of you next to their bed to reassure them. On one hand, the idea is to make use of the child's developing imagination as a weapon against their nightmares. On the other, you should teach the child to take the time to understand the origins of his bad dreams and to explain his fears and understand his frustrations. Of course, it would be both pointless and counter-productive to scold your children when they wake you in the night: they will feel guilty and unable to release their fears.
Besides helping your children to deal with nightmares, you can also take preventative measures to keep them from ever happening. The general rule is to foster good communication with your children. As soon as an unusual event takes place, don't hesitate to talk to your children about it, understanding what they think. Try to find out if they have any questions or fears. By showing them that you're available, and by providing them with a safe place, you'll make them feel more confident about expressing any anxieties they may have; this will lead to fewer nightmares. Most importantly, avoid scary stories, films, and television shows before your children go to sleep.
When should you seek professional help?
Firstly, if one of your children is calling out for you nearly every night due to nightmares, but can't recall what happened, be wary. Perhaps it's just an excuse to get your attention and spend time with you. Think about the importance of those bedtime rituals, which are both very reassuring for children and allow them to feel your availability right up until they go to sleep.
Next, if the nightmares persist, they have a recurring theme and frequency, and they seem to stay with your child all day, then this is a sign to go and meet with a medical professional. Likewise, if the child develops severe anxiety, finds it difficult to calm down, and fears going to bed due to potential nightmares, the advice of a child psychologist would be very useful. The National Sleep Foundation has a useful website with contact details for those in need, or you could consult with your pediatrician, who should be able to point you in the right direction.
And finally …
After the numerous terror attacks in France, my son had weeks of severe nightmares that plagued him day and night. Along with help from a child psychologist, we turned to the ultimate protector: God. Every night before going to bed my son ends his prayers with a simple phrase: "Thank you God for protecting me today, tonight and always." And if by magic, his nightmares have gone away.
Read more:
12 Tips For Raising Joyful Children
This article was originally published in the French edition of Aleteia, and has been translated and adapted here for English-speaking readers.