Here's a fun and creative way to re-live that loving feeling and strengthen your marriage for years to come.
What can God do in your life with one Bible verse a day?
Subscribe to Aleteia's new service and bring Scripture into your morning:
Just one verse each day.
Click to bring God's word to your inbox
When my husband came to my house to pick me up for our first date two years ago, I was a mess. My heart was racing, my hands were clammy, and I had changed my outfit at least four times. Now that we've been married for just over a year, the nervous excitement about date nights has settled into a comfortable familiarity with each other (although I still change clothes at least once).
But, as the years of marriage pass, I know from those who've been married much longer that it's easy to fall into routine and lose the passion we once had when we first met our spouse. In fact, studies show that just two years into marriage, couples report that their relationship has become stale and boring.
Enter this brilliant idea on how to go on a real first date with your spouse in a video from blogger Kristina Kuzmic. The "Truth Bomb Mom," as she's known, not only explains how to plan the date, but provides the important nuances that can give you that giddy, butterfly feeling again.
"If I get a text from my husband that says 'Hey, this is Phillip,' then I know what's up, because why would he tell me his name — I have his number," Kuzmic explains. "He'll, say, text like 'You know, it was great meeting you last night, I'd love to take you out for dinner.'"
Kristina and her husband go out on "first dates" with each other once or twice a year. They love how it provides a creative way to get to know each other better, even after their years of marriage.
After all, as life goes on, our schedules get busier and busier. In our first year of marriage alone, my husband and I have seen how tasks like doing the laundry, paying the bills, and going grocery shopping can take almost all of our free time together. I can see how it will get even crazier after we start raising children.
This isn't to say that every part of marriage should always feel like it did on that first date, or when we were on our honeymoon. There's a beauty of getting to know each other and discovering who our spouse truly is as their most authentic and vulnerable selves. But we also have incredible power to add fun and light-heartedness back into our marriages.
Here are a couple more tips for doing that:
Learn about each other
It's easy to turn date night with your spouse into a time to catch up about how the kids are doing in school and what needs to be done before the week is over. When you go on a first date with your spouse, try something new by talking about each other, instead.
"When you go on a regular date with your spouse, you're talking about the kids. You're talking about the bills. You're talking about your long to-do list," Kuzmik explained. "It's very rare that we sit there and actually get to know each other. We've been together for a while now, but every single time we do this, I learn something new about him and he learns something new about me."
Tell each other "I love you"
Remember when you first said "I love you" to your spouse when you were dating? Did your voice shake ? Were you nervous about how they would respond? Now that you're married, your confidence has built.
"You probably told your wife 'I love you' hundreds of times a day when you first dated. Yet after a few years of marriage, some men can go days without telling their wife they love them," said writers and married couple, Brett and Kate McKa.  "A common excuse men give for not telling their wife they love her is, 'I already show my wife I love her by working long hours to provide for the family and mowing the yard.' While it's true that love can and should be shown through actions, women need to hear that you love them. It's reassuring for them to hear it come from your mouth."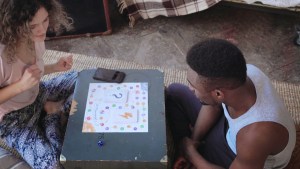 Read more:
Need some new ideas for date night? Here are 6!