A new study finds that certain words are specific to people suffering from depression, anxiety, and suicidal thoughts.
It probably wouldn't surprise you to learn that people with depression, anxiety, and ideas of suicide use language differently than the general population. But the way their word choices differ just might.
Most of us would assume that people who are depressed would use negative language to describe their emotional states, and that's true — but not always. Someone who has experienced depression or anxiety might predict that fellow sufferers would use personal pronouns more often, having themselves experienced the rumination and social isolation that accompanies depression and anxiety. That's also true — but not always.
Mohammed Al-Mosaiwi recently shared the results of his study on language use in depression, anxiety, and suicidal ideation with Big Think. His team found that negative emotions and pronouns were elevated in some of these groups but not others. However, there was one consistent language marker specific to those struggling with all three: absolutist words.
The style of language relates to how we express ourselves, rather than the content we express. Our lab recently conducted a big data text analysis of 64 different online mental health forums, examining over 6,400 members. "Absolutist words" – which convey absolute magnitudes or probabilities, such as "always," "nothing" or "completely" – were found to be better markers for mental health forums than either pronouns or negative emotion words. From the outset, we predicted that those with depression will have a more black and white view of the world, and that this would manifest in their style of language. Compared to 19 different control forums (for example, Mumsnet and StudentRoom), the prevalence of absolutist words is approximately 50 percent greater in anxiety and depression forums, and approximately 80 percent greater for suicidal ideation forums.
Having struggled with postpartum depression and anxiety, I can't say that I was surprised by these results. I remember too clearly how it felt when things genuinely seemed absolute, and absolutely doomed.
While I'm not surprised by the results of the study, it seems less like an answer than a question. I also remember the process it took to get out of that absolutist mental state. I remember my therapist advising me to stop myself from using absolutist language, and if I couldn't stop myself before it was said, to go back and revise what I had said both in my own mind and out loud. 
It's the first part of that that's so important. It's one thing to grudgingly admit that everything isn't a disaster when you still believe it is. It's a completely different thing to make yourself realize that life isn't black and white, disaster or glory, misery or euphoria. The vast majority of life happens somewhere in between the extremes, and sometimes that truth can be hard to see and impossible to believe.
What's intriguing about the study is what it says about the power of language to shape our experiences, and vice versa. My therapist encouraged me from the beginning to stop using absolute terms, and I took his advice before I believed it was true. I had to change the language I used and the terms I thought in before I was able to genuinely change my perception of and perspective on the world, life, and myself.
Of course, I can't extrapolate a universal truth from my own experience. But the results of this study do add evidence to the theory that the language we use shape our understanding of the world and ultimately, of ourselves. And I can attest to the fact that small changes, even the ones you don't want to make, can have a much bigger impact than you expect.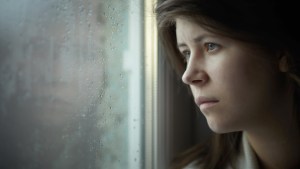 Read more:
It's time to rethink how we approach depression