Tracking steps is way more work than it needs to be.
Now that February has arrived, it's a good time to take stock of all those resolutions to get fit and see how they're working out — or in many cases, not working out. With gym membership requiring not only money but time, lots of us have taken to counting our steps in the hope of hitting the recommended 10,000 by the end of the day — that's approximately five miles. Yet are we setting ourselves up for a fall?
Championed back in the 1960s by Yoshiro Hatano, a Japanese doctor, who calculated walking that number of steps would equate to burning 500 calories, the 10,000-step challenge proved a global hit. This was only reinforced when further studies found other health benefits such as a reduction in blood pressure, an improvement in glucose levels, and let's not forget, it is free! So with pedometers, Fitbits, and smartphones recording our efforts, lots of us have taken to our feet to try and notch up as many daily steps as possible.
However, clocking those five miles a day can be tricky, especially if you are stuck behind a desk, or if you just don't have the time or the willpower to get out and about for the time needed. Thankfully, a new study spearheaded by the BBC's Michael Mosley and Professor Rob Copeland from Sheffield Hallam University in the UK found that there is an even more effective way to get fit, and it is far less time consuming and less hard-wearing on the sneakers. It's all about quality, not quantity.
Along with a small team of volunteers, Mosley and Copeland compared fitness levels of those doing 10,000 steps a day with those using an app called Active 10. The principle behind the app, which is recommended by the British National Health Service, is to do three bursts of 10-minute walks: not the leisurely stroll to the store, but as Copeland explains: "You are aiming to walk fast enough so that you can still talk but not sing."
The results of the study showed that simply striving for three bouts of activity a day was more obtainable than trying to squeeze in those daily 10,000 steps, with participants also managing "30 percent more 'moderate to vigorous physical activity.'" And it's that type more vigorous activity that gets the heart pumping with Copeland explaining: "There's lots of evidence to suggest that by doing so you can lower your risk of diabetes, cardiovascular disease and some cancers."
You don't need to pay for an app to make this approach work for you. It's way more effective is you don't "count" anything. Just get out of the house — walking to the store, taking a few laps around the parking lot, going for a walk after dinner — and move as much as possible.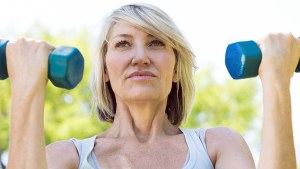 Read more:
The critical change you need to make to your exercise routine as you age