Even if your motivations are good, your spouse can only hear your words.
For the first (many) years of marriage, I had this habit of answering questions about my preference with, "I don't care."
This was almost always a blatant lie, because I did in fact care about whether we ordered Chinese or pizza, or whether we watched a rom-com or an action movie. My intention wasn't to lie, of course —  it was to be agreeable, to give my husband the freedom to choose his preference. It was a clumsy, misguided way of attempting to put his desires before mine, and ultimately it did more harm than good.
At Fatherly, Chase Sheinbaum listed this response in his list of 7 seemingly harmless phrases spouses should never say to each other, especially in front of their kids.
"If your spouse is asking for your opinion or insight, stating 'I don't care' sends a signal that you aren't interested in what they have to say," Hershenson says. There are more polite ways of explaining that you're indifferent, or that whether you order Indian or Thai for dinner is of little consequence because A) they're both delicious, and B) after a long day you have don't care about this particular issue. Extra garlic naan, please.
That's a good explanation, but it doesn't go deep enough. In my own marriage, the problem wasn't really that I was communicating a lack of interest; the problem was that I was rejecting my husband's attempt to please me by choosing my preference.
Much like the gift of the Magi, I thought refusing to tell him my preference was a self-sacrificial way of letting him choose what he wanted. But by asking for my preference on everything from movie choice to dessert preference, my husband was trying to show me that he wanted to please me more than he wanted to satisfy his own wishes.
It took us literally years to work out these crossed signals, and by that time each decision-making moment was fraught with tension and likely to end in an argument. When I finally understood that his frustration at my seeming indecision was borne out of feelings of rejection, I was horrified. I couldn't believe that I had been so focused on my own intentions that I had failed to consider his.
So I stopped saying "I don't care" and started answering his questions. I told him what my preference was and then asked if that worked for him. After a while, he got comfortable enough to tell me when he really could not stand sitting through one more romantic comedy, and we began to learn — after almost a decade of marriage — how to compromise.
I'm not saying it was all flowers and chocolates after that because this is real life and it wasn't. But the way our signals crossed in one simple interaction led to a build-up of tension and resentment that couldn't be undone. It had to be healed. We had to work through it. It could have been avoided with better communication. It also could have been avoided if I had never once said to my husband, "I don't care."
The truth is, we almost always care. We might be totally exhausted and just wanting to shut our brains off, but if a stranger offers you a choice a between two options, you'd pick one. You wouldn't say "I don't care," because it would be inconsiderate.
It's just as inconsiderate to tell your spouse you don't care, even if your motivations are good. When you say "I don't care," they literally hear, "I don't care." If what you mean is "I'd rather you choose because they both sound good to me" or "How about you pick because I picked last time," say that. Taking the time to say what you mean while being mindful of how it might make your spouse feel can help you avoid years of miscommunication and frustration.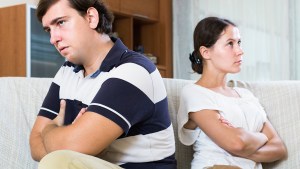 Read more:
4 Tips for fighting fair the next time you argue with your spouse