It's not about the vocation to marriage or to the priesthood! It's something else ...
"By discernment, we don't mean asking whether you should marry or become a priest! That question arises only for those who have already surrendered to living life in communion with God. What a disaster we are creating by not making this distinction!"
In The Art of Starting Over ("L'arte di ricominciare"), Fr. Fabio Rosini offers a theological reflection on what discernment—a term often used by Pope Francis—really means.
Dynamics that guide us
By discernment, we mean the kind of observation that provides interior guidance to those who live in the Lord's presence, just as the Lord Jesus lives in the Father's presence. To seek this presence becomes the fundamental orientation of one's being. It's not a single choice; it subsists in all our choices. It's the substance of the new life that the Lord Jesus inaugurated in human flesh.
"Smelling" the presence of God the Father
A cat is always a latent predator, and when it engages in predatory activity, it's simply being itself; a dog is a latent sleuth, and when it sniffs and points, it's not a "special" activity; it's just what a dog does.
In the same way, children of God don't discern God's will because they have read a book on it, or because they have heard about it in hundreds of catecheses, but because they "smell" the Father in things, because they know Him. Discernment isn't a skill.
In practice, our identity as redeemed human beings means that we relate to God as children to their father. This relationship leads to sensitivity, sharp sight, and a well-tuned ear to perceive our Father's will.
Discernment, even at the very beginning, takes place in dialogue with God, because discernment isn't an ability. It's a relationship.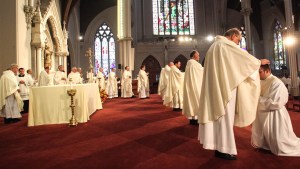 Read more:
Why you should think about your vocation … but not too much
A relationship that can't be improvised!
When we grope around in the darkness, we trick ourselves into thinking that we will be able to improvise observation, and do so haphazardly. Lacking sight, we still try to evaluate things, to distinguish them, to subdivide them following our feelings, our impressions, or our instinct—without any training. Discernment doesn't work that way.
At the very least, we need some light to discern, some awareness of what is around us. Otherwise, every guess will be short-sighted, situational, hormonal, or dependent on the weather. We can't live that way. And we can't start over again haphazardly.
The blessed life
Discernment of one's own vocation—in the context of this daily relationship with the Lord, that is—doesn't end with our youth. It continues our entire life!
Every day, we discern what God is calling us to do. We must discern the vocation of old age, of maturity; the vocation to work; the vocation to friendship. Discernment is not about staying immobile in some kind of planning. Nor does it strive for small or grand utopias. Discernment deals with reality and the details of everyday life.
In other words, discernment is about affirming our life as God has established it. We need to enter the veins of life, and know how to accept it as it is. We have been given a blessed life. This is God's command. His will is that we be obedient to this blessing. It is vital that we rediscover, welcome, and affirm God's blessing in our existence.
"How does God save me?"
In the practice of discernment, there is a law of continuity: God has a coherent way of saving me.
In general, He takes me along a particular a line of grace. This is the key to reaching salvation. God's mercy endures forever, and the way that the Lord traces for us is ordinarily straight. It is never contradictory.
Do I want to continue to build up what is good in my life? Or do I want to to abandon what God has done for me and start over? This is one of the main tasks of discernment, to focus on how God has been saving me in the particular details of my life.
The Father's places
Someone said that when God comes to us we know the sound of His footsteps. He approaches us in a way that we recognize. The Spirit of the Lord has His own familiar way of entering each person's heart.
A thousand times, it has helped me to go back over the path of the graces I've received, to retrace where goodness dwells on my territory, to remember the places where I habitually have let the Father find me. I know that there are things which, if I do them, will do me good. They have always done me good.
Generate life!
The last stage of the first level of discernment is to generate life. The final point of all this trajectory is life for others. Everything is a road from solitude to relationship. Everything that I will do, to begin anew, has an end goal that gives value to it all. Be sure that your discernment leads to the generation of life.
A movement of love
Love is the light that guides us to recognize the results of discernment. As with all things, love is the true priority. Every inspiration is a movement of love, because it comes from the Holy Spirit, Who is love. If we accept humiliations, we become capable of Easter actions, which are actions of love. We identify our blessings by looking at the path of love in our life. In short: the criteria for everything is life for others. It is fecundity.
Whether I am on the right path, it's not always for me to say. Those who are at my side say it. And they should be asked, because my essence as a human being is my capacity to generate life.
"Whom am I for?"
Hence, fecundity is the clearest principle of discernment.
One of the most useless things is to engage in discernment to arrive at an understanding of who I am. The real question is: for whom am I? Being happy with myself—for my own sake, nothing more—is a big mistake. If, in the end, I don't open myself to anyone, then I am no one.
This is the exercise we must use to reach the goal: let ourselves be penetrated by the question, "Whom am I for?" Then look around, and begin to answer.
~
This article is translated and adapted from Aleteia's Italian edition.