The first pope started out his ministry in a central hub of the ancient world.
While St. Peter is widely known as the first bishop of Rome, the "prince of the apostles" started out his ministry in the "Rome of the East," the ancient city of Antioch.
The Roman Empire at the time of Christ hailed Antioch as the new capital of the East over that of Alexandria. It became a pivotal city, one favored by the emperors of Rome and a vital part of the Empire.
It also became an important city for Christians in the first few decades after Jesus's death. Antioch became the home to many Jewish Christians who fled Jerusalem after St. Stephen was stoned to death. For this and other reasons it made perfect sense for Peter to minister to the spiritual needs of these early Christians.
According to the Golden Legend, Peter arrived in Antioch to preach the good news of Christ. However, Theophilus, governor of the city, did not want him there and said, "Peter, why are you corrupting my people?" Peter tried to convert Theophilus, who immediately had Peter imprisoned.
St. Paul heard about Peter's imprisonment and visited Theophilus in order to gain his trust. While there St. Paul was able to visit Peter and then urged Theophilus to release him. Theophilus refused, but was curious about St. Paul's claim that Peter could raise the dead. He said that if Peter could raise his son that he would release him. Miraculously, the governor's son was raised from the dead through Peter's intercession and he was given freedom in Antioch to preach the gospel. Theophilus would later receive an account of Jesus' life through the hands of St. Luke.
Whatever the veracity of this story is, the people of Antioch welcomed Peter's preaching and built a chair for him to be placed above everyone else while he taught them about Jesus. It is believed that Peter stayed in Antioch for seven years before going to Rome to become the first bishop there.
In the centuries after Peter's death, it was the custom for bishops to celebrate the anniversary of their initial consecration. The Church appointed February 22 as the anniversary of Peter's elevation to a bishop in Antioch. This was called the "Chair of St. Peter in Antioch," referencing the chair that Peter sat in to teach the people.
Over time this feast was merged with the feast commemorating the "Chair of St. Peter in Rome," and became a single feast on February 22.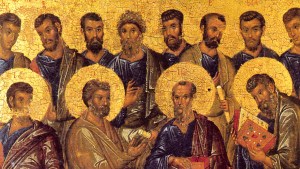 Read more:
Meet the saint who invented the name "Christian"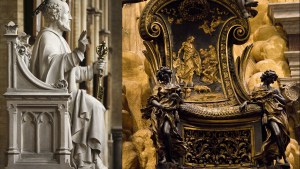 Read more:
Why is there a feast day for a chair?