Incredibly, our names affect our looks in conformity with societal expectations.
When my husband and I were trying to pick out a name for our first daughter, we both leaned heavily toward classic, vintage girls' names. After a few months of deliberation, we settled upon Adele Gwendolyn.
We began referring to the baby as "Adele" before I'd reached the halfway point of pregnancy. Our friends and families did the same, even though some of them hated the name. To us, she was already named Adele.
And yet, something about the name didn't sit right with me. I loved it, and I had known a girl in college named Adele that I greatly admired. But no matter how much I loved the name, I couldn't quite make it ours. It didn't seem right, and no matter how many times I called the baby girl in my stomach "Adele" it felt foreign and unnatural.
In my eighth month of pregnancy I stumbled across the name "Seanna" in a baby-name book, which means "God's gift." Blissfully unaware of the proper pronunciation for Irish names, I said "sea-anna" out loud a few times.
I liked it, but not quite. There was something a little off about it, but the name sat with me until a few days later when I heard a homily about St. Catherine of Siena.
Sienna. That was it. That was her name. I knew it instantly, like recognizing a long-lost childhood friend. She was a Sienna, and we named her accordingly.
I've often wondered what would have happened if I had never opened that book and we had named her Adele. Would she be different? Would she have a different personality, different habits? Would she have conformed to fit the name Adele, or would she have made that name her own, stretching and changing it to fit her as perfectly as Sienna does?
Read more:
10 Beautiful biblical names to give your baby daughter
A research team led by professor Anne-Laure Sellier set about to answer that very question, and in a Fatherly article summarizing their results they explained that our names actually influence our appearance as adults.
In research recently published in the Journal of Personality and Social Psychology, our research team shows that the stereotype that a given society has of a first name can influence the way people look … How should we understand this effect? Until now, social psychologists knew that our facial appearance influences the extent to which others perceive us as attractive, intelligent, trustworthy or warm. This study shows that others' perceptions of our first name is reflected in our faces.
They got these results by asking people to guess the names of strangers in ID-style photos. The participants correctly identified the names 40 percent of the time, a percentage far above what could be attributed to chance.
The research team theorized that this face-name effect was a direct result of social expectations that names come loaded with. From an early age, they surmised, children absorb these unspoken, largely subconscious expectations and mold their personality, behavior, and appearance to correctly conform to them. This effect is so pronounced, in fact, that participants were able to correctly identify names on the sole basis of their hairstyle.
In order to prove that the face-name effect was the result of societal expectations, the research team took the experiment one step further and asked French participants to identify Israeli names and vice versa. As they expected, the face-name effect disappeared and participants only identified the names correctly by chance.
So if I had never opened that baby-name book, would Sienna be a different person? It seems pretty likely that she would be different from the daughter I know, in fairly significant ways — which makes me all the more grateful that I found that out-of-print book on the bottom shelf at Half-Priced Books.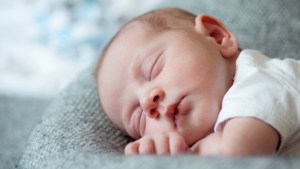 Read more:
16 Inspiring saints' names for your baby boy