Marissa Schimmoeller "lost it" when they told her.
The shooting in Florida's Marjory Stoneman Douglas High School over a week ago has caused shock, tears, anger, and much debate. Yet, for one group of students it has also called for a plan of action. Not on a federal or country-wide scale, but one closer to home. One in which they would put their own lives at risk to save the life of their English teacher, Marissa Schimmoeller, who is wheelchair bound.
In a moving Facebook post, Schimmoeller, who teaches ninth and tenth grade at Delphos Jefferson High School in Ohio, explained how she'd been anxious about returning to school after the shooting. She shared: "… As the first students walked in, I began to feel the anxiety pooling in my stomach."
She went on to explain that she'd been dreading one particular question that a freshman eventually asked: "What will we do if a shooter comes in your room?" As a devoted teacher, her first thought would be to protect her students. However, realizing that she would not be as capable as her more able-bodied colleagues, Schimmoeller had prepared a speech: "I want you to know that I care deeply about each and every one of you and that I will do everything I can to protect you. … If there is a chance for you to escape, I want you to go. Do not worry about me. Your safety is my number one priority."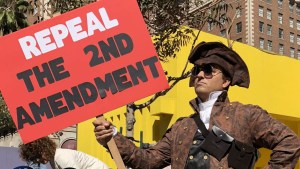 Read more:
School shooting met with another round of calls for gun controls
Schimmoeller, speaking with TODAY parents, explained that she has always been open with her students about the disabilities her cerebral palsy has caused. And being in the classroom for 24 years she's used to getting her students to lend a helping hand. But her students mean everything to her. After the shooting she said "I definitely don't have all the answers, but I want them to feel safe in my classroom."
And it would seem the feeling was mutual. The students announced to their teacher that they'd already hatched a plan: "Mrs. Schimmoeller, we already talked about it. If anything happens, we are going to carry you." Understandably Schimmoeller "lost it." With tears in her eyes, she reminded us of the fundamentals that unite our society: "I understand that it is hard to find the good in the world, especially after a tragedy like the one that we have watched unfold, but there is good. True goodness. It was found in the hearts of my students today."
These are truly grade A students in what truly matter: thoughtfulness, compassion, consideration, self-sacrifice, and of course, being prepared. As Schimmoeller would agree, saying to TODAY parents: "Every one of my students, is so full of light and goodness" and that's what we must remember in these difficult times: the potential for a whole lot of good in the world.
Read more:
Texas high school shooting: a prayer for the victims