Since more than 45 percent of our daily activities are habitual, we need to know how to change this.
Most of the decisions we make on a daily basis might seem to us to be the product of a reflective decision-making process, but that's not entirely the case: many are actually the result of habit.
A habit is formed when we repeat an action frequently, until it eventually becomes an unconscious behavior. These actions become automatic, and consequently, they don't require much attention, effort, or motivation on our part. On the contrary, we need a lot of motivation and effort to perform activities that are not automatic — that is to say, actions that are not yet habitual.
The advantage of a habit is that, since it is automatic, we can do it without thinking. We don't need motivation or strength of will, so we can focus our efforts on other things. If the habit is good, it makes our daily life easier and more virtuous. The disadvantage is that some of our daily habits aren't healthy, so we are repeating actions that put our integral well-being at risk.
Habits often begin without our realizing it; they are established inadvertently, and by the time we want to free ourselves of them, they have become routines that seem impossible to change.
Habits arise because our brain is always looking for ways to save its resources. If we allow it to use its natural mechanisms, our brain will try to convert almost every routine into a habit, because habits let our brain rest more often. This instinct to save energy is highly advantageous. An efficient brain allows us to stop thinking constantly about basic behaviors, so we can dedicate our thoughts to more complex things.
According to Ann Graybiel, a researcher at MIT: "Habits never really disappear. They're encoded into the structures of our brain, and that's a huge advantage for us, because it would be awful if we had to relearn how to drive after every vacation. The problem is that your brain can't tell the difference between bad and good habits, and so if you have a bad one, it's always lurking there, waiting for the right cues and rewards." This explains why it's so hard for us to create habits of doing exercise, for example, or of eating a healthy diet, if we have first formed unhealthy habits. However, by the same logic, if we learn to create new neurological habits that enforce positive behaviors, we can force our unhealthy routines into the background.
An unhealthy habit is one that has negative consequences for your physical, mental, emotional, and/or social health. 
The psychology of habit formation proposes a rule of the three Rs, which are the following:
Reminder (or cue): a stimulus that initiates the behavior
Routine: the action performed
Reward: the benefit obtained when we perform the action
Our brain establishes a permanent neuronal connection to initiate, perform, and finish a given repeated action as long as it has the same reminder. If the action results in a reward, the next time we encounter the same cue or reminder we will engage in the same routine. This way, the reward of a positive result serves as motivation and stimulus for us not to lose that positive routine.
More than 45 percent of our daily activities are habits, which define our current lifestyle and which are building the life we will have in the future.
We must remember that, in order to change bad habits, we have to start by incorporating one healthy habit into our lives at a time. Just one. In this way, we can do it consciously and not be overwhelmed. Incorporating just one healthy habit introduces a positive effect that will improve all areas of our life, and can even weaken other bad habits that we want to eliminate.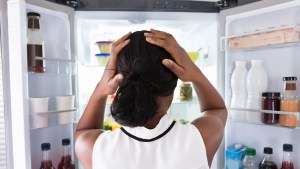 Read more:
Willpower won't always cut it — what you really need to make or break a habit