Francis will also meet with a victim of Boko Haram.
The husband and the daughter of Asia Bibi, a Christian woman imprisoned in Pakistan on "blasphemy" charges, and Rebecca Bitrus, victim of the Islamist group Boko Haram, will be received by Pope Francis on February 24, the Holy See reported. These three witnesses of persecution against Christians were invited to Rome by the Italian branch of Aid to the Church in Need (ACN).
Accused of having blasphemed against Muhammad, which she has always denied, Asia Bibi has been imprisoned in Pakistan since 2009. She was sentenced at first instance and on appeal to the death penalty. The Supreme Court of Pakistan must now rule on this sentence, but in 2016, it postponed indefinitely the examination of her case.
At Christmas 2013, Asia Bibi wrote to Pope Francis asking him to pray "for her salvation and her freedom." Her husband and daughter, Ashiq Masih and Eisham Ashiq, already met the Argentine pope in April of 2015.
For her part, Rebecca Bitrus is a 28-year-old Christian girl from Nigeria. For two years, she was held against her will by the Islamist group Boko Haram, which terrorizes the populations of Nigeria, Niger, Chad and Cameroon. Pregnant after being raped by one of her jailers, Rebecca Bitrus managed to flee with her child and find her husband.
Read more:
This Catholic is on death row for "blasphemy." The prayer she wrote will give you chills
The Colosseum, illuminated in red
Ashiq Masih, Eisham Ashiq and Rebecca Bitrus will be accompanied during this meeting with Peter's Successor by Alessandro Monteduro, director of the Italian branch of ACN.
On the same day in the evening, the three will publicly testify about their lives and the persecutions suffered by Christians in their country. Also present at the event will be Cardinal Pietro Parolin, the pope's secretary of state, and Antonio Tajani, president of the European Parliament.
This event will take place in front of the Colosseum. This monument, a symbol of martyred Christians, will be colored red for the occasion by a play of lights.
At the same time, a church in Aleppo (Syria) and another in Mosul (Iraq) will also be illuminated. Other iconic buildings have already been illuminated in red by the ACN, including the Basilica of the Sacred Heart in Paris (France), last October.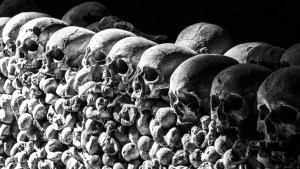 Read more:
Are there more martyrs now than in the early Church?