There's a recent documentary, PBS special, and forthcoming biopic starring Tom Hanks about the world's most loved neighbor.
What can God do in your life with one Bible verse a day?
Subscribe to Aleteia's new service and bring Scripture into your morning:
Just one verse each day.
Click to bring God's word to your inbox
"It's a beautiful day in this neighborhood, a beautiful day for a neighbor," he'd sing as he walked through the door. Every day was beautiful in Mister Rogers' Neighborhood, even if my own was rainy or windy or snowy. I could see the blue sky over his shoulder as he smiled, glad to see me.
He'd slip on a zip-up sweater. Sit down and take off his leather work shoes — maybe throwing one up in the air. Put on a pair of sneakers. It was as reliable as Sunday Mass and, for a kid like me, as comforting. If PBS's other acclaimed educational shows from my childhood — Sesame Street and The Electric Company — were like wild, breathless romps through a playground, Mister Rogers' Neighborhood was the warm sameness of Grandma's house, where there'd always be a hug and chocolate milk and a game of Crazy Eights waiting.
Fred Rogers is gone now. He died 15 years ago February 27. But maybe we need his neighborhood more than ever.
Rogers was all about healthy decisions, and he believed that confident kids who felt well-loved would go on to make the best ones. "You know, I think everybody longs to be loved, and longs to know that he or she is lovable," he was quoted as saying on the 2003 television documentary America's Favorite Neighbor. "And, consequently, the greatest thing that we can do is to help somebody know that they're loved and capable of loving."
Read more:
Video: Mister Rogers and Me
If that sounds a little like a Sunday School lesson, that's no mistake. Rogers was a Presbyterian minister who maintained a strong Christian faith throughout his life. He never smoked. He never drank. He swam every morning and, throughout his television career at least, always weighed exactly 143 pounds. "The number 143 means 'I love you,'" He told Tom Junod of Esquire. "It takes one letter to say 'I' and four letters to say 'love' and three letters to say 'you.' One hundred and forty-three. 'I love you.' Isn't that wonderful?"
Wonderful, maybe. And a little corny to some ears, too. Listen to Mister Rogers talk, and to a cynic it can feel silly or hackneyed.
I was a cynic at 16. 
When asked at camp, "Who likes Mister Rogers?" I rolled my eyes. I'd outgrown Mister Rogers. 
But should we?
When tragedy strikes, Mister Rogers' words always seem to return on social media. "When I was a boy and I would see scary things in the news, my mother would say to me, 'Look for the helpers. You will always find people who are helping,'" he once said.
In 2017, when a terrorist attack tore through Manchester, England, the quote made its rounds again. And it sparked Anthony Breznican of Entertainment Weekly to share, through Twitter,  a personal experience he had with Mister Rogers — how he watched an episode of Neighborhood when he was in college, in a moment of personal crisis, and how it felt "like a cool hand on a hot head." Then, days later, he ran into Rogers in person. Rogers asked, "Did you grow up as one of my neighbors?" Breznican said yes, and started crying. They chatted for a bit, and Breznican told Rogers about his rediscovery of the show. Rogers paused, took off his scarf and sat down. "Do you want to tell me what was upsetting you?"
"This is what set Mr. Rogers apart," Breznican tweeted. "No one else would've done this."
Breznican poured out his story to a total stranger and yet a lifelong neighbor. He talked, especially, about his grandfather, who died just a few days before. And Rogers — Mister Rogers — told him a story about his own grandfather, and about a toy boat his grandpa had given him as a boy, that he'd now lost as an adult. "Those things never go away," Rogers said. And when Breznican apologized for making Rogers late, Rogers just smiled. "Sometimes you're right where you need to be," he said.
Read more:
The Kindness of Strangers: A London Experiment (Video)
That's who Mister Rogers was. He seemed to care for everybody, just liked he cared for all those millions of anonymous preschoolers who watched him every weekday. When he talked to Junod for Esquire, he helped the author grieve for a stuffed animal Junod lost as a child. When Rogers accepted an Emmy for Lifetime Achievement in 1997, he asked for 10 seconds of silence from the assembled glitterati: "10 seconds to think of the people who have helped you become who you are." Those 10 seconds were followed by smiles. Tears. And another standing ovation for the unassuming, gentle Mister Rogers.
We don't hear the word "neighbor" very much these days. Most of us don't truly know our own. But the Bible has a lot to say about the word. "You shall love your neighbor as yourself," we're told in Mark, James, and Galatians. "Let each of us please his neighbor for his good, to build him up," we read in Romans.
Mister Rogers knew the meaning of neighbor. He lived it.
While he may have left this earth 15 years ago, he's as much in the news as ever. A documentary on the man, Won't You Be My Neighbor?, premiered at The Sundance Film Festival this January. PBS will air a special tribute to the man, Mister Rogers: It's You I Like, on March 6, marking the 50th anniversary of his landmark show. Tom Hanks will play Rogers in an upcoming biopic, You Are My Friend, expected to be released next year.
In an age where the world seems so chaotic and base and mean,  it would seem we need Mister Rogers more than ever. His words and wisdom feel, in the words of Breznican, "like a cool hand on a hot head." He was always gracious, always sincere, and it was always a beautiful day in his neighborhood.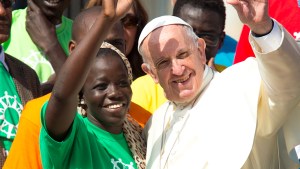 Read more:
Love your neighbors