Jesus is pictured surrounded by wild beasts, which each have an important allegorical meaning.
Midway upon the journey of our lifeI found myself in a darkness wildFor I had wandered from the straight and right!
These are the opening lines of the first part (Inferno) of Dante's epic work The Divine Comedy. Soon after awakening Dante finds himself at the foot of the hill. He looks up and sees the sun rising, its rays leading to heaven. Aspiring to follow the light he begins to ascend the hill rapidly. But Alas! out come the ravaging beasts – a leopard (fraud and vanity), lion (pride and violent ambition) and a she-wolf (incontinence).
Temptation is an integral part of human living. Right from Adam and Eve humanity always encountered temptation. Jesus Himself, led by the Spirit, goes into the desert in order to share in the temptations of the world.
The Gospel of Mark, unlike the other parallel Gospels, does not elaborate on the scriptural debate between the devil and Jesus. Mark simply mentions, "Jesus stayed in the desert for 40 days and was tempted by Satan." Moretto da Brescia (1498-1554) in his "Christ in the Wilderness" shows Jesus with wild animals while the angels waited on him. The animals themselves form an important part of today's painting and Dante's Divine Comedy.
Animals, both real and mythical, occupied an important place in medieval art and thought. They served as symbols of virtues and vices. Biblical and religious references provided impetus to their employment. Documents known as bestiaries were collected and compiled. Church Fathers like St. Augustine, St. Ambrose and St. Gregory the Great used illustrations from these books as religious allegories for moral instructions.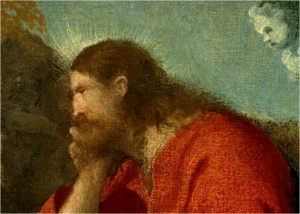 Consider the painting. Christ sits pensively on a rocky terrain punctuated by clefts. He seems fatigued and famished, withdrawn to silence and poverty. Two beech trees are planted in the center. The first is dead and dry. The second, fresh with green leaves, leans towards Jesus sheltering him from the scorching sun.
Mythically the beech tree is associated with the Roman god Jupiter. The tree derives its name from a Greek word that means "to eat," reminding us of the nuts it provided the ascetics for their sustenance in the wilderness. This elucidates Christ's abstinence for 40 days.