Calls for immediate cessation of violence to get the wounded out of war zones
After praying the midday Angelus on Sunday, Pope Francis made an appeal for an immediate cessation of violence in Syria.
This month has been one of the most violent in the seven years of the country's war.
Francis noted how hospitals have been hit and people are unable to get food.
"All of this is inhumane," the pope decried. "One cannot fight evil with another evil."
Pope Francis appealed for the immediate cessation of violence in the country so that people could get access to humanitarian aid, and so the wounded and sick could be evacuated.
"We pray to God that this happens without delay," he said.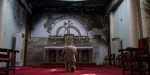 Read more:
Joseph Yacoub: In Iraq and Syria, "one of the oldest Christian communities is dying"