What was Jesus' authority over other Jewish leaders?
There is a common misconception that by profession Jesus was simply a carpenter — one imbued with the wisdom of God, which allowed him to debate scripture with the highest authorities of Jerusalem from a very young age.
However, this cannot be the case, since these rabbis would not have accepted correction from an uneducated laborer. As far as the need for credentials goes, the biblical times were no different today, and Jesus would not have been welcomed into communities to teach unless he was accepted as a religious leader.
A primary piece of evidence that Jesus was highly educated in Scripture and Torah Law comes from where he grew up. Galilee was a deeply religious area that produced more famous teachers than anywhere else in the world. The Galilean people were better educated in the scriptures than most Jews, thanks to a very dense curriculum which saw most, if not all, of the scriptures committed to memory. Thattheworldmayknow.com explains the curriculum for a common Galilean child:
At five years old [one is fit] for the Scripture, at ten years the Mishnah (oral Torah, interpretations) at thirteen for the fulfilling of the commandments, at fifteen the Talmud (making Rabbinic interpretations), at eighteen the bride-chamber, at twenty pursuing a vocation, at thirty for authority (able to teach others)This clearly describes the exceptional student, for very few would become teachers but indicates the centrality of Scripture in the education in Galilee.
From what we know of Jesus' early life, it would seem he completed all of these landmarks: Luke 2:52 tells us that Jesus "grew in wisdom" as a boy, Luke 2:41 demonstrates that he completed his first Passover at age 12, Matt 13:55 and Mark 6:3 show him learning a trade, he spent time with John the Baptist in Luke 3:21, and of course he began his ministry at "about thirty" in Luke 3:23.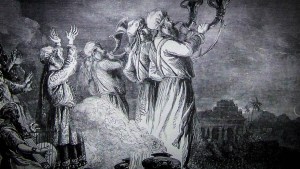 Read more:
How old was Jesus when he began his ministry?
So Jesus was a proven rabbi whose knowledge of scripture and law were widely accepted as authoritative. The Bible also illustrates this in Matthew 23, when Jesus denounces the Scribes and Pharisees. Had he merely been seen as a carpenter, he would have been dismissed as a vagabond. This displays that Jesus was considered more than just a rabbi, rather he was a Teacher-Priest.
The post of Teacher-Priest was not common, only a few rabbis rise to this level.
A Temple teacher would have needed more than just a deep understanding of faith and law to enter the Holy Place, he would need an authentic pedigree, proving his long lineage of other teacher priests, and for this we look to St. Joseph.
Luke 3 takes us through the lineage of Joseph and shows that he was a Teacher-Priest, like Heli or Eli before him. Joseph is refered to as a tekton in the gospels, a word which means "technical expert." This does not refer to laborious techniques, but it means he was an expert teacher of the Torah. A Hebrew tekton was a master of security for a nation, able to turn Jews and their surrounding gentiles to God.
Jesus followed in his adopted father's footsteps, becoming a tekton in his own right. However, Jesus went a step further. The 1st-century historian Josephus calls Jesus a teacher, but also refers to him in another word:
"A wise man, if it be lawful to call him a man, for he was a doer (poietes) of wonderful works, a teacher of such men as receive the truth with pleasure. He drew over to him both many of the Jews and many of the Gentiles. He was the Anointed of God (Christ)."
Jesus was not just a priest and a teacher, he was an anointed one. Anointing was not common, and not even performed for the high priests like Theophilus or Caiaphas. The Talmud tells us that an anointed priest is in a higher category of holiness from an unanointed priest, and the latter must withdraw before him.
This of course should come as no surprise to anyone who is familiar with Jesus as Christ, since the word "Christ" means "anointed one." It also explains why the Romans, who were aware of Jesus' position in Jewish society, considered him the "King of the Jews."