Tragedies can lead to great acts of love and generosity.
When a mosque in Victoria, Texas, burned to the ground at the beginning of the month, the outpouring of love and support from home and abroad shocked its 100-strong congregation.
On hearing of the destruction of the Victoria Islamic Center, Dr. Gary Branfman, along with other members of the Temple B'Nai Israel synagogue, headed straight over to the house of his friend and fellow surgeon, Dr. Shahid Hashmi, to give him the keys to the synagogue so that local Muslims could continue to attend prayers. Hashmi explained to CNN news that this support didn't come as a surprise as "we've always had a good relationship with the community here."
This was echoed by Robert Loeb, the president of the synagogue, who shared with Forward: "This is sad for everyone in the community and as Jews we especially have to feel for the Muslim community. When a calamity like this happens, we have to stand together."
The town of Victoria boasts a population of 67,000, yet both the Jewish and Muslim communities are very small, with only 25-30 members at the synagogue. As Loeb explained: "We got a lot of building for a small amount of Jews."
And the community spirit didn't end there. Since the fire, whose cause is still being determined, there have been other offers of a place to worship. According to CNN, three churches have stepped forward, and the use of office space has also been offered as a temporary alternative.
Forward also explained that in this town where religious leaders have previously taken part in interfaith work, with the synagogue, mosque and a church each welcoming members of each others' religions over a three week period, a further interfaith event that took place in front of the mosque not long after the fire must have offered a lot of spiritual support as well.
And finally, the disaster has also led to financial contributions to rebuild the mosque. When Omar Rachid set up a GoFundMe page, more than $1 million was quickly raised. Rachid said in The Independent: "Our hearts are filled with gratitude for the tremendous support we've received. The outpouring of love, kind words, hugs, helping hands and the financial contributions are examples of the true American spirit."
Which is why this beautiful story of religions coming together is so relevant for inclusion in the Mass Mutual commercial "I'll Stand By You," now being played during the Olympic Games.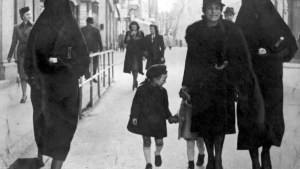 Read more:
The incredible story of two families, Jewish and Muslim, who rescued each other