"We don't stop playing because we grow old. We grow old because we stop playing."
Every day we're confronted with images and noise about how to "stay young" and battle the march of time. As Americans, we prize youth and spend billions of dollars on beauty and cosmetic products each year, with a deep-rooted belief that younger is better and agile is best.
In many other parts of the world, however, the beauty and wisdom that come with age are held in the highest regard. People make room and time in their lives to appreciate and learn from their elders. No, not lessons about how to update to the latest iPhone iOS or what's trending on Twitter, but the essence of living a meaningful life — investing in what's meaningful and what lasts: time spent with family and friends, sharing hard-won knowledge, and enjoying the gift of life.
So instead of focusing on the wrinkle you saw in the mirror this morning, here's a page you can take from other cultures about how they celebrate —  and even welcome — aging.
Effortless style
Women in France tend to embrace being well-groomed and sleek, rather than clinging to youth. There's an effortless style that many attribute to French women — think Juliette Binoche or Catherine Deneuve — a je ne sais quoi that reads as if living well and keeping your body moving will leave you little time to care about trivial details like aging. And in the end if you feel good, you look good.
Tomorrow when you get dressed, instead of thinking about the way your pants fit, pull out a colorful scarf from the back of your closet or a necklace that makes you smile and be on your way.
Truly seeing others
It's fairly well known that respecting and caring for one's elders is highly esteemed in Asian cultures, such as those in Japan and China. Senior family members are treasured and it's been the norm for centuries for elders to live with and be cared for by younger generations.
The next time you see an older person in the grocery store, instead of lamenting that they're slowing down the line, jump in and help them with their bags. In the doctor's waiting room, spend a few minutes chatting with an older person about what they wish they knew when they were younger or the most amazing thing they've seen in their lifetime — it's sure to leave a much more lasting impression than the TV re-runs that are vying for your attention.
Read more:
Is Cosmetic Surgery Okay for A Christian?
Prioritizing wisdom
Native Americans prize the virtue of wisdom. Tribe elders are actively sought out to pass down knowledge to younger members and to apply their life experience to current problems. In Vietnam, elders have the strongest influence in family decision-making and are regularly looked to for their advice.
As you contemplate the next issue that falls in your lap, think about a wise person you know who may have some light to shed on the problem. And don't text them — actually pick up the phone and call them. You may be surprised at the pleasure it will bring to you both and how looking at the problem through someone else's eyes may crystallize your next move.
Celebrating milestone birthdays
In Korea, special festivities honor advanced birthdays. A hwan-gap, or 60th birthday, is a time when children celebrate their parents' passage into old age, because ancestors rarely reached 60 before the advent of modern medicine. At 70, there's another celebration known as a kohCui which means "old and rare." Similar celebrations for turning 60 and 70 are also held in Japan.
In America, we often dread turning 40 and think of it as "over the hill," but consider establishing your own family or friend celebrations to mark special age-related milestones and recognize how far you've come. Celebration and general fun-having are what makes for a young soul. As George Bernard Shaw said: "We don't stop playing because we grow old. We grow old because we stop playing." So go ahead, throw that party, and reminisce with joy. Nothing says "I'm thrilled to be 30, 40 or 50" than looking back at some hilarious and dated photos.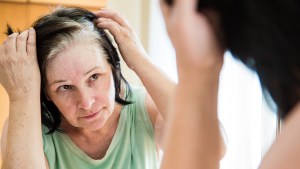 Read more:
Nails breaking, hair graying? It may be more than simply aging