"We must pray for these brothers and sisters of ours."
Greeting pilgrims and visitors from Syria, the Holy Land and the Middle East present at today's general audience, Pope Francis made yet another appeal for peace (leaving his prepared text) for the "martyred nation" of Syria.
"We must pray for these brothers and sisters of ours," he said, "and for all persecuted Christians."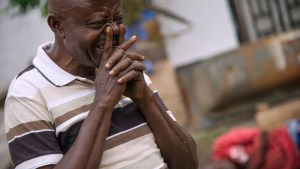 Read more:
Why does fasting have anything to do with a far-away war?
The pope's appeal came just after the Church of the Holy Sepulchre reopened early Wednesday morning. This development came after Israeli Prime Minister Benjamin Netanyahu became personally involved and froze the measures that had infuriated church leaders.
The site had been closed since Sunday.
"We, the heads of Churches in charge of the Holy Sepulchre and the status quo governing the various Christian holy sites in Jerusalem – the Greek Orthodox Patriarchate, the Custodian of the Holy Land and the Armenian Patriarchate – give thanks to God for the statement released earlier today by Prime Minister Netanyahu and offer our gratitude to all those who have worked tirelessly to uphold the Christian presence in Jerusalem and to defend the status quo," the leaders of the three denominations in charge of the site said in a statement.
Meanwhile in Syria, it was reported that President Assad's forces launched a ground assault today on eastern Ghouta. The U.N. Security Council, including Russia, passed a resolution on Saturday calling for a 30-day countrywide ceasefire, but it has not come into effect.
There have been 11 days of bombing of eastern Ghouta, outside Damascus, the last major rebel-held area near the capital, in what has been one of the bloodiest conflicts of Syria's seven-year war.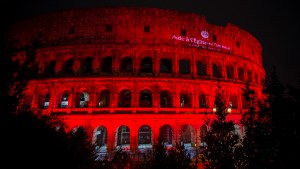 Read more:
The Colosseum bathed in red