While Christian persecution was rampant in ancient Rome, it was not constant.
Were Christians really thrown to the lions? Well, yes and no. And more importantly, they weren't the only ones to suffer this fate at the hands of the Romans.
Since the end of the 19th century, the prevailing symbol of the ancient Roman persecution of Christians has been the lion. Henryk Sienkiewicz's 1895 novel Quo Vadis and its 1951 film adaptation popularized the imagery of Nero feeding these poor souls to the beasts. This has lead to the widespread belief that all Roman emperors instituted policies of persecution, but it would seem that this is not the case.
While it is true that Christians were persecuted in Ancient Rome, it was not a constant effort on the Romans' part, nor was it universally practiced. The Conversation tells us that this misconception was primarily influenced by two works written in the early 4th century: On the Deaths of the Persecutors by Lactantius, a Christian professor of Latin, and The Church History of Eusebius, written by the bishop of Caesarea in modern-day Israel.
The two works were finished during the reign of Constantine, the first Christian Roman emperor, and sought to record the suffering of Christians under Roman rule up until that time.
Lactantius cited Nero as the first persecutor of Christians. After the Great Fire of Rome, which rumors attributed to Nero, he shifted the blame onto the Christian community and, according to the Roman historian Tacitus, had them covered in wild beast skins and torn apart by dogs.
A horrible way to die, to be sure, but it does not seem that they were executed for their faith, but rather as "punishment" for arson.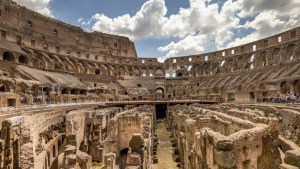 Read more:
Watch the Roman Empire rise and fall in 10 minutes