A group of teens who took the time to encourage my son made all the difference in his first confession.
Last week, I took my son to his first confession.
He had prepared to make it with his classmates at their usual Wednesday morning confession and Mass times, but he was sick that day and had to miss it. So I took him to the general confession time on Saturday morning, where there were a lot of kids from the parish but none from the parish school.
He was anxious. He was more anxious about making his first confession than any of my other kids have been, in fact. We had talked and talked and practiced and prayed and he was still riddled with nerves, so I was apprehensive about how the change from school to church would effect him. At school, he was among his friends. At church on Saturday morning, though, everyone was a stranger.
Once the DRE had given a general welcome and overview, the kids making their first confession were taken to wait in several pews in the back. Liam was caught up in a group of teenagers talking excitedly around him. He was so much smaller that they didn't even have to lean around him, they just talked over his head like he wasn't there.
Read more:
A CCD teacher's top 5 ways to keep teens interested in God
He tried to be stoic, but after a few minutes his face fell and he began to cry, all alone in the middle of a group of kids.
Rachel Macy Stafford recently wrote a post about the pain of exclusion, whether it's intentional or unintentional. She describes introducing herself to some women at her daughter's new activity and being curtly rebuffed, only to encounter them again the next week.
"Hello," I said warmly. "How are you both doing today?" I received mumbled replies and they immediately turned back to each other and continued talking. My daughter and I talked to each other, which relieved the painful sense of feeling invisible … That is when the best possible result that could happen from this experience occurred. I said, "Remember this."
We've all been there … the new kid at school or church, the new employee, the new parishioner, the new anything. We know what it's like to feel awkward and unsure of the unspoken rule of this new place, and looking for just one friendly face. We've also felt the unique, exquisite rejection of not finding a single friend among the crowd of strangers.
I will be forever grateful to the parents of those teenagers who noticed my son's tears and set their own conversation aside to console him. They asked him if he was nervous or scared, and one of them admitted he was scared, too. Another one said it would be okay, because God already knew his sins and would forgive him the second he asked. And a third got the attention of the DRE, who intervened, pulled Liam out of the pew just as I reached it, and offered to let him take a moment to calm down and then go next in line.
It only took one story about the time I cried so hard in the confessional that snot leaked from my nose to the laminated Act of Contrition to stop his tears and have him laughing, and then he was ready to brave the confessional. I watched him glance at the teenagers who gave him big grins and thumbs up, square his shoulders, and walk in, and I said a prayer of thanks for the mothers who taught their children to remember what it feels like to be invisible.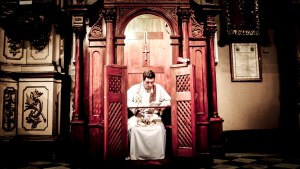 Read more:
How to go to confession, a step-by-step guide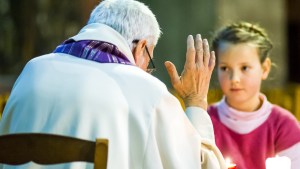 Read more:
How often should my 8-year-old go to confession?