It's refreshing to witness women putting motherhood first.
Adaora Akubilo Cobb, 34, is no stranger to receiving harsh comments when she breastfeeds her 20-month-old son, Arinze. "Our society in particular is not very supportive of women who nurse after a certain age," she told the Chicago Tribune. So when photographer Cass Bird asked Adaora if he could capture the intimate moment between a mom and her child during a Gap photo shoot, Adaora said, "Absolutely." The shots that Bird captured become the main shots of the campaign.
""I was so happy," Adaora said. "I felt it was affirming."
The ad was shared on Instagram and praised by mothers who were excited to see a company help normalize breastfeeding. Since the initial appearance of the campaign on social media, the post has more than 41,000 likes and over 2,000 comments. Many Instagram users praised Gap for normalizing breastfeeding and recognizing the beauty of a moment between a mother and child. "Beautiful mom, beautiful baby, beautiful moment," one user wrote.
"I don't want women to feel shamed," Adaora told Chicago Tribune. "It's so important to encourage mothers."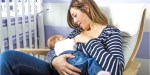 Read more:
Test your breastfeeding IQ!