While it is one of the 3 pillars of Lent, we don't have to be rich to live it.
It wasn't the first time one of my catechism class kids came up with the topic for class. We had Lent on the lesson plan; that's a broad subject, and the book our parish uses has it conveniently broken down for me into the history, purpose, and sacrifices of Lent.
My fourth-grade class is always curious and eager to talk and ask questions, which is part of what I love best about teaching them.
We explained prayer, fasting and almsgiving as familiar practices for Lent. Of course the word almsgiving immediately brings to mind money. Giving, donating and sharing are all familiar topics to 9- and 10-year-olds but they assumed, as many people do, that it only refers to money.
"Well, if your family doesn't have a lot of money what are you supposed to do?" one boy asked. "Sometimes my father says before we go to church, 'Oh I don't have any money to put in the basket!'" A girl sitting across from him added, "Yeah, my parents say they owe a lot of money so they can't put any money in the maternity home collection boxes you gave us."
I was so glad they brought this up! While we might need to think a bit outside of the box (and sacrificially) to find a few spare dollars a month, God certainly doesn't limit our giving, donating, and sharing to mere financial support.
Among the great folks who give in various ways is one of my student's mothers. She sings in the church choir. As I mentioned her, I explained that "she is giving her time and her voice to our parish."
Her daughter admitted she hadn't thought of that as "giving."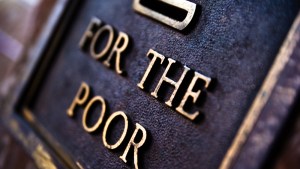 Read more:
What your pastor won't tell you about parish giving