The Readings assigned for this
Third Sunday of Lent
speak to us about the God's jealous, zealous love for us, expressed in the gift of Himself in the giving of the Commandments to Moses. These laws help us recognize what is involved in loving and honoring God, as well as how we can protect and nurture our relationships with those around us. As Barbara Reid, OP, has observed, "The God who asks this response from us offers ardent love … The way we choose to respond to this fervent offer of love carries consequences, and the effects ripple down to subsequent generations" (from
Abiding Word
, Year B).
Jesus himself embodied God's zealous love for the "House"—a reference to both the Temple in Jerusalem and also for the "household" of God, the community of believers—when he sent the money changers out of the Temple.
Love, including God's love for us, asks for only one response: love. And with this in mind, we can recognize that the days of Lent are a time to reflect on how we receive God's love and how we have—or have not—allowed that love to transform us. We can also ask ourselves if we have been zealous for the things of God as we reflect on the quality of our discipleship and our personal commitment to following Christ.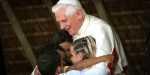 Read more:
Simple advice from Benedict XVI on how to be a better mom or dad


In the end, every Easter Sunday we are given an opportunity to renew the promises of our Baptism. This means rededicating ourselves to live as Christians in the world and to continuing the mission of Jesus, especially for the poor and those in need. The 40 days of Lent are a time for us to get back to the basics of who we are as followers of Jesus.
When have you experienced God's deep and zealous love for you?

How are you being invited to more faithful service in these days of Lent?

What are the

things

(possessions, relationships, habits, desires) that are cluttering the "temple" of your person and crowding out God?
Words of Wisdom: "Lent is a time of returning to God … a time of refocusing, of re-entering the place of truth, of reclaiming our true identity."—Henri Nouwen