A traditional hymn, and the prayer and contemplation it proposes, can bring our hearts to Calvary.
The first time I saw The Passion of the Christ, I wept. On the drive home from the theater, I had to ask my friends to stop talking—I couldn't handle small talk after seeing such violence done to my Savior.
I felt the same way the second time. And the fifth, and the 10th. But somewhere along the way, that brutal beating became old news. And just as I'd become hardened to the truth of the Passion, I was dulled to the film adaptation.
We just get used to it. We take for granted that God was born in a stable, not even pausing a moment to be stunned at his condescension. We skim past the raising of the dead and cleansing of lepers and we hardly shed a tear when God is tortured to save us.
I've spent many a Lenten season trying to excite in myself the feelings that the Passion once aroused. And while faith isn't a matter of feelings, it can be quite a lot more powerful when you really confront your sin and its effects on Jesus. It's the reason Christian pop artists sing about the Cross, the reason we gravitate toward images of the Passion and pray the Stations of the Cross every Friday. We want to push past our jadedness and really meditate on the suffering and death of Christ.
According to the Stabat Mater, there's no better way to do it than to stand at the foot of the Cross with Mary.
Written in the 13th century, this hymn is familiar to Catholics, many of whom have sung its first 14 verses while praying the Stations of the Cross. But the lyrics are more than just transition music as Father processes around the Church. In this Latin hymn, the author invites us first to look at Mary, then from her to the Cross, and finally asks us to fix our eyes on heaven.
The hymn begins by asking us to look away from Jesus, to watch his mother instead. It seems counterintuitive, turning from Jesus to understand his suffering better, but when we see his pain through the eyes of his Mother, it becomes even more profound. Those thorns pierced the brow she kissed in Bethlehem. His knees bloodied from falling under the cross are the same knees she bandaged when he fell as a child. She cannot hold his hands now, pierced as they are and nailed to the Cross.
If you, inured as you are to the thought of God's death, can't grieve his pain, look at hers. Think of the thousand mothers holding their dead children today and weep. Weep over a heart broken, a heart pierced by a sword. "Can the human heart refrain/ from partaking in her pain,/ in that Mother's pain untold?" the song asks, and I think the answer is no. We who glance absentmindedly at the crucified God hanging in our living room have to pause when we consider that he left behind a mother who watched him die—for us.
After eight verses of this, we're finally invited to look from Mary to her Son, but we do it with a prayer: "O thou Mother! fount of love!/ Touch my spirit from above;/ make my heart with thine accord./ Make me feel as thou hast felt;/ make my soul to glow and melt/ with the love of Christ our Lord."
We've forgotten how to mourn a tragedy that took place 2,000 years before we were born, so we ask her for whom the pain is still fresh to turn our hearts toward her son.
Mother, we pray, teach me to suffer along with him who suffered for me. Teach me to mourn my sin that crucified him.
And there, beside our Immaculate Mother, seeing the pain our sin caused not just him but her, we learn to grieve again. Her pain breaks our hardened hearts so that his pain can transform them.
Finally, the lyrics turn toward heaven, begging that our contrition here would sanctify us, that meditating on the Cross would draw us out of sin and into the embrace of Christ, both here and hereafter. That's ultimately the purpose of our prayer, the purpose of everything we do: to become his.
If you feel compassion burnout this Lent, if the sanitized crucifixes and vaguely representational Stations aren't inspiring you, if even The Passion can't excite any true contrition or compassion in your heart, spend some time meditating on Mary's suffering in the passion. Pray as the Stabat Mater does: "Let me share thy grief divine."
In pondering Mary's suffering and asking her to open our hearts to Christ's, may our hearts, too, be pierced by a sword to become more like his.
At the cross her station keeping, 

Stood the mournful Mother weeping,

Close to Jesus to the last.

Through her heart, His sorrow sharing, 

All His bitter anguish bearing, 

Now at length the sword had passed.

Oh, how sad and sore distressed 

Was that Mother highly blest 

Of the sole-begotten One!

Christ above in torment hangs; 

She beneath beholds the pangs 

Of her dying glorious Son.

Is there one who would not weep, 

Whelmed in miseries so deep

Christ's dear Mother to behold?

Can the human heart refrain 

From partaking in her pain, 

In that Mother's pain untold?

Bruised, derided, cursed, defiled, 

She beheld her tender child

All with bloody scourges rent.

For the sins of His own nation, 

Saw Him hang in desolation, 

Till His spirit forth He sent.

O thou Mother! fount of love! 

Touch my spirit from above; 

Make my heart with thine accord.

Make me feel as thou hast felt; 

Make my soul to glow and melt

With the love of Christ our Lord.

Holy Mother! pierce me through; 

In my heart each wound renew

Of my Savior crucified.

Let me share with thee His pain, 

Who for all my sins was slain, 

Who for me in torments died.

Let me mingle tears with thee, 

Mourning Him who mourned for me, 

All the days that I may live.

By the cross with thee to stay, 

There with thee to weep and pray, 

Is all I ask of thee to give.

Virgin of all virgins best, 

Listen to my fond request

Let me share thy grief divine.

Let me, to my latest breath, 

In my body bear the death

Of that dying Son of thine.

Wounded with His every wound, 

Steep my soul till it hath swooned 

In His very blood away.

Be to me, O Virgin, nigh, 

Lest in flames I burn and die, 

In His awful Judgment day.

Christ, when Thou shalt call me hence, 

Be Thy Mother my defense, 

Be Thy cross my victory.

While my body here decays, 

May my soul Thy goodness praise, 

Safe in Paradise with Thee.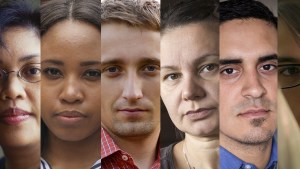 Read more:
With his 7 last words, Jesus speaks to us all