The 90th Academy Awards show airs tomorrow at 8 p.m. EST on ABC.
The Oscars, Hollywood's biggest self-celebratory gala, will be conducted this Sunday (March 4). With luck, it'll end that day, too … but you never know.
One thing's for sure, though: Plenty of us will be watching. About 33 million of us did so last year, anyway, and that was actually down from previous Oscar telecasts. We go to Oscar parties, hold Oscar pools, toast the winners, gossip about the fashion, grouse at the acceptance speeches and eat Oscar-themed food. (I may commission some sort of elaborate gelatin dessert as a salute to The Shape of Water.)
But while you may watch the Oscars, how much do you know about them?
Should there be a lull during your Oscar soiree — or if you just enjoy talking to yourself — feel free to toss out these trivial Oscar bon mots. Behind all the nostalgic film clips and shimmering gowns and tender acknowledgements of agents, the Oscars are a very strange gala indeed. For instance …
The red carpet isn't really red …
It's closer to burgundy, according to the Los Angeles Times— a very specific and deeply secretive shade called Academy Red. It's about 50,000 square feet of carpet, by the way, and it takes 18 workers about 900 man-hours to install the thing. Security personnel try to keep bystanders away from the actual off-red rug, fearful that someone might snatch a swatch of it and either duplicate its proprietary color or sell it on eBay.
Oh, and one more thing: According to L.A. Curbed, the carpet's never reused. Every year it's destroyed, and Georgia's Signature Systems Group makes another one.
The gold statues aren't really gold …
They couldn't be, of course: If they were (and weighed in at what they do now, about 8.5 pounds), each statuette would run the Academy about $180,000. Let's face it: Even Meryl Streep isn't worth that kind of cash. As it is, the Oscars themselves are mostly bronze, according to Oscars.org, (other sources allege that it's mostly britannium) and just plated in 24-karat gold. For three years during World War II, when any sort of metal was hard to come by, the Academy handed out plaster statuettes.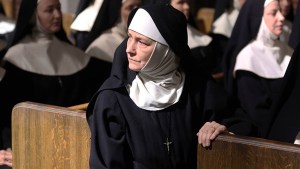 Read more:
Hollywood rediscovers faith just in time for the Oscars
A grand total of 3,048 Oscars have been handed out since Academy Awards were first held — though technically, the statues aren't even named Oscars (even though the gala itself is). The statuette's full name is the Academy Award of Merit.