It isn't much but it may become someone's treasure for a lifetime.
As St. Therese once said, "One word or a smile is often enough to put fresh life in a despondent soul." Recently, Twitter user Ed Solomon took to Twitter to share a story about how a random act of kindness changed a woman's life.
As a young girl, the woman was constantly harassed and verbally abused by her mother. One day, while in an elevator, this scenario was taking place in front of a group of strangers. As she began to follow her mother out of the elevator, one stranger whispered to her, "Hey, it's not you. It's her." It may have been a  small comment, but it became a gift to her for many years after.
The other day a woman related a story to me about how her mother had viciously berated her since she was a child. And how one day it was happening in an elevator – in front of others. When the door opened on their floor the mother bolted out but just as SHE started to go.. 1/

— Ed Solomon (@ed_solomon) January 29, 2018
.. a stranger – a random person who happened to be there – whispered, "Hey." And the (then 11 yr old) girl turned back. The stranger said: "It's not you. It's her." And then the elevator door closed. Why do I bring this up? 2/

— Ed Solomon (@ed_solomon) January 29, 2018
Because the (now 53 year old) woman told me that at times when life gets really dark, when she hears her (inner) mother's voice telling that she's shit, she can't do it, or to just plain give up.. she then sees that stranger's face as the door closes in front of her. Nodding. 3/

— Ed Solomon (@ed_solomon) January 29, 2018
"The point?" he continued. "If you have a nice thing to say — a word of encouragement, a compliment — even if it's to a passing stranger … Don't hold onto it. Cause you never know where and when it will land."
In response to the story, more and more Twitter users began to share their own experiences with words of kindness that helped them through difficult times, from suffering child abuse to the stress of being a new mother.
I was beaten and abused as a kid and my teacher told me at age 9 ( she whispered) "one day you'll write all your wonderful stories down and people will listen to the girl that you hide just now.. it will come out and you'll be proud of yourself" I never forgot Miss Miller.

— Janey Godley (@JaneyGodley) January 29, 2018
I love this. I've never forgotten the woman who reached out and touched my elbow as I was on the verge of tears, dealing with a tantrumming toddler in the middle of a busy street. 'You're doing an amazing job,' she said. https://t.co/JEq4RerLUt

— Love Audrey 💕 (@Loveaudrey83) January 30, 2018
This thread sums up why I always share any genuine compliments that come to mind, even though some people like to dismiss me as a "suck up" for it. You never know how much you can help someone just by sharing the positive thoughts you have about them. https://t.co/j0Yv8kiiuO

— Heather (@perksofbeingHC) January 30, 2018
Small words of kindness can become the most treasured blessings for one day or even for a lifetime, and they are messages we should remember to appreciate and to give whenever we see someone who might be in need of a little encouragement.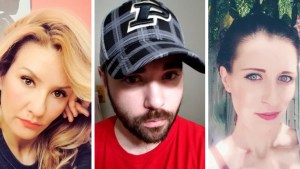 Read more:
Twitter users are taking on #BlueMonday