And it's more than an app; it's a testimony to Mary's closeness when we're hurt and broken.
If you resolved to make the Rosary part of each day this Lent and are finding it difficult, maybe what you need is an audio Rosary app. Look no further than Broken Mary, an app featuring the voice of Kevin Matthews, a man heard by many in Chicago for years during their morning commute and known for his many radio voices, including Jim Shorts.
It's a simple app. Once you open it, it asks, "Do you want to pray today's Rosary?"
Clicking "yes" pulls up the day's audio, while "no" brings you to the app's home interface where you can choose a different set of mysteries, learn the story behind Broken Mary, or submit a prayer request.
I personally find it helpful, especially via Bluetooth in my car, as a way to pray the Rosary.  
Broken Mary is more than app, it's the story of a man who has fallen in love with Mary and wants others to know Mary's love for them.
Kevin Matthews was a well-known voice on radio throughout Chicago and Grand Rapids. After experiencing health complications and being diagnosed with multiple sclerosis, he was led by God to visit a cemetery in Chicago and pray at the foot of the cross. He wasn't alone in that prayer. With a prayer card of Our Lady of Fatima in his hand, he was led by Mary to the cross, where he experienced tremendous grace and felt sensation in his arm. This was only a moment of preparation for what was to come.
Read more:
Confessions of a Family Rosary Dropout
In the fall of 2011, while out on a drive, Kevin received interior direction again, a movement of God's grace in his heart, as he was directed to go to a flower shop and buy flowers for his wife. As he arrived at the shop and looked around outside, his eyes glanced and saw a broken statue of Mary behind a dumpster. An inner prompting told him that he had to take this statue home. Like any good soul would do, he asked the store owner if he could remove the statue from their property. Initially they told him no, but with the promise of donating to a local monastery in their honor, the owner relented, and Kevin picked up the statue, placed it in his truck, and took her home.
Kevin then was faced with the decision of how to repair the statue. He began to a certain extent, putting the statue back together, but leaving the other damage.
Why not repair the whole statue? Because we have all been broken, and we allow Mary to know our brokenness so that she can pray for us and help to make us whole. Broken Mary is an icon of all believers.
Read more:
Pope: Our Mother isn't a distant queen, but one who takes our problems to heart
The statue of Mary stays at Kevin's home parish, unless Broken Mary is present in someone's hospital room or home, bringing them comfort knowing that Mary is praying for them and with them.
Broken Mary is indeed more than just a Rosary app; it's the story of Mary capturing the heart of Kevin Matthews (which is shared in Dynamic Catholic's book of the same title).
Broken Mary is a statue venerated by devotees, but most of all it is a movement among believers to help them know Mary's love for them. The app helps people fall in love by praying the Rosary, allowing Mary to lead them to Jesus.
If that was your hope for this Lent, to pray the Rosary daily, let Broken Mary be your companion.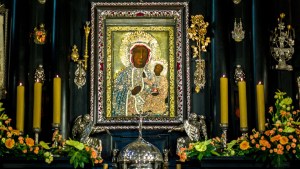 Read more:
Everything you always wanted to know about Poland's Black Madonna
Follow on Facebook, here.