There's still plenty of time to make this season fruitful so Easter will be that much more joyful!
Lent is here and like every year, I'm trying to do it right and be prepared for Easter this time, instead of feeling like I let the liturgical season slip through my fingers and I'm no better off spiritually than I was on Fat Tuesday. It's easy for me to get caught up inside my own head, questioning my motives for Lenten sacrifices and observances. "Isn't this something I should always be doing (or not doing), instead of just during Lent?" Or, "Is it bad to hope I'll lose a couple of pounds and my skin and sleep will improve by skipping that nightly glass of wine I enjoy?" The Wall Street Journal even captured this Lenten motivational quandary in a recent article.
For me, the only way through this endless self-scrutiny is to get out of my head and take action.  
So this year I'm trying a new tactic and creating a retreat-like space in my mind, heart, and daily schedule. It's unlike an actual retreat because you don't go anywhere and you still have to do all of your daily work, housekeeping and child-rearing tasks. So, okay, it's not a retreat at all, I get it. But think of it more as a retreat blanket that cloaks your daily grind with constant reminders and opportunities for  prayer, fasting and almsgiving.
Here are some simple and practical strategies I'm trying this year to help me follow through with my Lenten promises.
Go bare
No, not like that. Think of churches that go flower-free during Lent and adjust your home's décor. Replace flowers with simple things like bare branches, or maybe leave vases out but empty. Or temporarily store the regular adornments and sparkly things you enjoy. This will serve as a constant reminder of the season and also add meaning to bringing them back out at Easter.
Use those sticky notes
Tape a note on the mirror above the sink with a prayer or Scripture verse you've chosen or the names of those for whom you intend to pray. Instead of fretting over your to-do list or staring at the clock beating yourself up for running late, again, use those few minutes of brushing your teeth, washing your face, and brushing your hair for prayer. 
Keep Friday meals simple
Plan a meatless meal you'll eat every single Friday during Lent. Make it something simple with ingredients you're likely to have on hand. Don't make things more complicated than they need to be. Eliminate time spent searching for new meatless recipes and shopping for special ingredients. For my family, it's a simple risotto. The repetition is a nice reminder that it's not just any other Friday.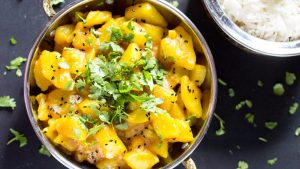 Read more:
2 Meatless family meals bursting with color and flavor