We could all use a little more of this beautiful honesty ...
You can get Aleteia inspiration and news in your inbox. Our specially curated newsletter is sent each morning. The best part? It's free.
Sign up here
When asked about the moments that give the most meaning to our lives, we might be tempted to search for something apparently profound to say. But when Twitter user Alastair McAlpine asked his terminally ill pediatric patients what brought the most joy and meaning to their lives, their answers showed a simplicity and honesty that we might run away from as adults.
From family to pets, from good books to random acts of kindness, these kids paid tribute to the little things in life, and Alastair tweeted them out for us.
You can read their responses below.
MANY mentioned their pets:
'I love Rufus, his funny bark makes me laugh.'
'I love when Ginny snuggles up to me at night and purrs'
'I was happiest riding Jake on the beach.'
/2

— Alastair McAlpine, MD (@AlastairMcA30) February 1, 2018
ALL of them loved books or being told stories, especially by their parents:
'Harry Potter made me feel brave.'
'I love stories in space!'
'I want to be a great detective like Sherlock Holmes when I'm better!'

Folks, read to your kids! They love it. /5

— Alastair McAlpine, MD (@AlastairMcA30) February 1, 2018
MANY wished they had spent less time worrying about what others thought of them, and valued people who just treated them 'normally'.
'My real friends didn't care when my hair fell out.'
'Jane came to visit after the surgery and didn't even notice the scar!' /6

— Alastair McAlpine, MD (@AlastairMcA30) February 1, 2018
Almost ALL of them valued kindness above most other virtues:
'My granny is so kind to me. She always makes me smile.'
'Jonny gave me half his sandwich when I didn't eat mine. That was nice.'
'I like it when that kind nurse is here. She's gentle. And it hurts less' /8

— Alastair McAlpine, MD (@AlastairMcA30) February 1, 2018
Finally, they ALL valued time with their family. Nothing was more important.
'Mum and dad are the best!'
'My sister always hugs me tight'
'No one loves me like mummy loves me!' /11

— Alastair McAlpine, MD (@AlastairMcA30) February 1, 2018
We can't be told too many times to live for what really matters. As Alastair put it, "Be kind. Read more books. Spend more time with your family. Crack jokes. Got to the beach. Hug your dog. Tell that special person you love them. These are the things these kids wished they could've done more. The rest is details."
Take home message:
Be kind. Read more books. Spend time with your family. Crack jokes. Go to the beach. Hug your dog. Tell that special person you love them.

These are the things these kids wished they could've done more. The rest is details.

Oh… and eat ice-cream. /End

— Alastair McAlpine, MD (@AlastairMcA30) February 1, 2018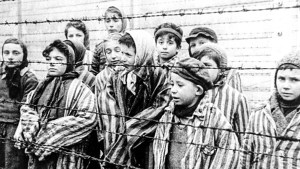 Read more:
Did you know there was a concentration camp for children? "Little Auschwitz"