Does this city really have, as they say, a church for every day of the year?
The short answer is no: Cholula, in central Mexico does not have, in fact, 365 churches. But that does not mean the city was nicknamed "the city of 365 churches" out of sheer caprice. When in Cholula, one could visit more than a dozen churches in a radius of just eight or 10 blocks.
It was conquistador Hernán Cortés who gave Cholula this name. As he arrived to the pre-Columbian city for the first time, he was surprised to see how abundant teocallis (small pyramids crowned by temples on the upper platform) were in the Aztec city. Cholula was then an important religious center devoted to the feathered serpent, Quetzalcoatl. All the inhabitants of the Valley of Anáhuac would visit it, for religious purposes. In fact, the Great Pyramid of Cholula is the largest pyramid known to exist in the world, to the date.
It was on top of this great pyramid of Cholula – which, according to archaeologists, must have been built in four stages, starting in the 3rd century BC — that the Shrine of the Virgen de los Remedios was built. It seems the early Spaniard custom of replacing teocallis with churches was precisely what made Cholula gain the reputation of having one for each day of the year.
Now, according to the Archdiocese of Cholula, the "365" figure is only slightly exaggerated: there are 283 parishes registered in the city, not including chapels, minor churches, oratories and other religious buildings. In the video below, you can appreciate the Shrine of the Virgen de los Remedios, built at the top of the Great Pyramid of Cholula.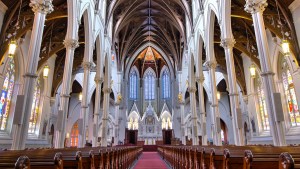 Read more:
3 Historic Catholic churches you have to visit in Boston


Read more:
How early churches came to be built in the form of a cross