'Touched by an Angel' star reveals the spiritual tools that have helped her endure great loss.
What can God do in your life with one Bible verse a day?
Subscribe to Aleteia's new service and bring Scripture into your morning:
Just one verse each day.
Click to bring God's word to your inbox
Actress and producer Roma Downey may not be a member of the heavenly host like Monica, the character she portrayed for nine years on the hit TV series Touched by an Angel, but she has lived a life that is deeply connected to God — and she continues doing her best to serve as one of His messengers.
That certainly holds true in her new memoir Box of Butterflies: Discovering the Unexpected Blessings All Around Us. Roma reveals the ways she continues to be affected by her mother's death many years ago, the lessons about love and peace that she learned growing up in Ireland during "The Troubles," the spiritual habits she's developed to focus her mind on God throughout the day, and her mission to use media to spread stories of hope and faith through Lightworkers.com.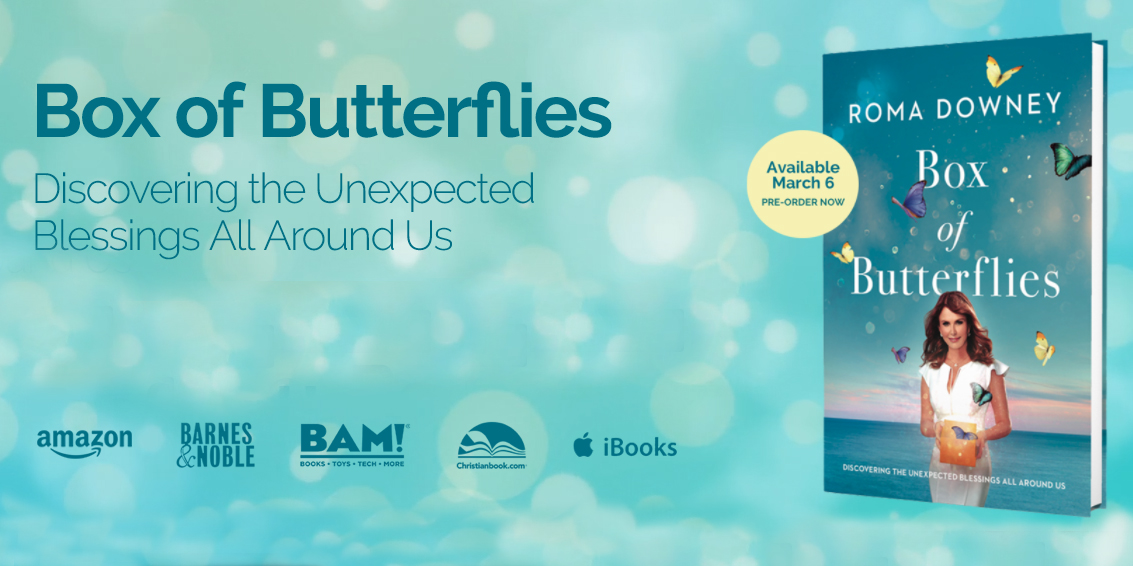 During an interview with me on "Christopher Closeup," Roma recalled her mother Maureen's shocking death from a heart attack a week before Roma's 11th birthday: "Nothing could have prepared us for the absence that her loss created in our lives. It was as if the color had been removed and the lights had been turned out. My father really leaned into prayer to help us cope and get us through that very painful time. Of course, we had the promise through our faith and the hope that we would see our mother again. But I was still just a little girl, and I really missed my mom."
It was the first Mother's Day after Maureen's death that Roma developed her lifelong affection for butterflies. She and her father brought pansies to the grave because they were one of her mom's favorite flowers. Suddenly, a real butterfly flew by and her father suggested it could be a sign from her mother that she was still with them.
Roma said, "That was sort of the beginning of the butterfly helping create some sort of comfort. But I missed her all through my life … I don't think you can be too old to feel the ache inside of losing someone that you love. I wrote this book hoping it would be a comfort to someone who has experienced loss."
Though no one could ever replace Roma's mother, she did find an adoptive mother of sorts in her Touched by an Angel co-star, the late Della Reese, who penned the Introduction for Box of Butterflies. The two hit it off immediately, forming a bond that could be called transcendent. It was also a bond that ultimately proved necessary to both of them.
Roma said, "A heartbreaking thing occurred in Della's life because her only daughter passed away unexpectedly while we were working together. Not long after, Della took me aside and said, You know, baby, God is so amazing. I always knew that He brought me into your life because you needed a mother. I didn't realize that He was bringing you into my life because I was going to need a baby girl. Will you be my daughter?"
"Yes," responded Roma affectionately.
"Then I am your mama," declared Della.
For 20 years, Roma says she benefited from Della's "wisdom, love, strength, and courage," and Della became godmother to Roma's own daughter Reilly. But Della was a larger-than-life personality who loved everybody.
Roma said, "She would come on the set of Touched by an Angel, and we probably had to give at least 15, 20 minutes just for her to get around the room because she hugged everybody. It was like equal opportunity hugging, whether you were the star of the show, the director, the janitor, making a cup of tea, she came in the room and she said, 'God bless everybody in here.' She changed the energy in the room. She truly was an angel, one of the most remarkable women I've ever known."
While Della carried God's presence wherever she went, Roma has learned to do the same in various ways. One is a simple ritual she has developed every time she washes her hands.
Roma explained, "I know this might sound really simple, but sometimes it's the simple that can be the most helpful. Every time I wash my hands, I remember to say, 'Thank You, God,' as the water hits my hands from the faucet. I say, 'Thank You, God. Thank You for my blessings.' And I must wash my hands, in the winter, maybe 20 times a day. And you think, 'I'll remember all day to be in gratitude' — until the first phone call from work, the first stressful thing that has to be dealt with, the first worry over one of your kids. It can throw your whole balance [off]. Then the next thing, I'm washing my hands, and I remember to go back into gratitude and thank God. It has made such a difference in my life — a simple thing, but a very powerful tool."
Another powerful tool that Roma is using to spread God's light is media. In addition to producing faith-friendly stories like "The Bible" mini-series with her husband Mark Burnett, she is spearheading a website called Lightworkers.com to counteract some of the darkness in the world today.
Roma said, "We are a digital company creating video and editorial content celebrating the good in our world — and creating it in such a way where it's maybe a 90-second video or a two-and-a-half-minute video. Something that you can comfortably watch that touches your heart. One of my favorite quotes, Tony, is that it's better to light a candle than curse the darkness. I know you know that one. That's our mantra at Light Workers …We can't be overwhelmed by the enormity of heartache and be paralyzed. We do have to do something. So Light Workers was my way of doing something. And people have been loving it … because I think people respond to story. I'm not a preacher, and my intention is not to preach. My intention is, through story, to see how people's lives can be changed with grace."
One of the more personal ways that Roma has brought God's grace to those in need for the past 20 years is through her volunteer efforts with the charity Operation Smile, which sends doctors and nurses to third world and developing countries to operate on children born with cleft lip and cleft palate.
"In the absence of proper care in some of these countries," explained Roma, "the child grows up with a deformity that, in many cases, prevents them from eating, so they're malnourished — prevents them from speaking correctly, so there's an assumption they're mentally deficient."
Roma has traveled to Africa, Asia, the Middle East, and Central America with Operation Smile and experienced many moments when she hands a child back to its mother after surgery. The "tears of gratitude" the mother sheds at seeing her child's face restored always has a profound effect on Roma, leaving her feeling humbled and privileged to take part in missions that make a real difference in people's lives.
With the release of Box of Butterflies, Roma hopes that her stories and reflections — and favorite poems, quotes, and Scripture verses which are sprinkled throughout the book — make a difference to readers. Having grown up in Ireland during a time of division between Catholics and Protestants, she hopes to serve as an instrument of peace during this time of division in the U.S. So how did she escape becoming swept up in the hate she witnessed during her youth?
She said, "My father was an extraordinary man, and he always emphasized the need to treat people the way you would want to be treated, with love and respect, and to have tolerance. Even though we may have had different opinions in our community, that clearly violence and hatred wasn't the answer. I grew up in a terribly segregated time, Tony, in the city of Derry. Protestants called it Londonderry, and Catholics called it Derry. Over the course of the height of the violence there, Protestant people moved to one side of the river, and we Catholics lived on the other. And never the twain did meet … I probably was well into my middle teens before I knowingly hung out with a Protestant."
As time passed, life and attitudes began to change in Derry, and therein is a lesson from which all Americans can learn.
Roma said, "It's with great pride and gratitude that when I visit Derry, as I try to each year, that you see a community that has healed and managed to reach out across that river to each other. Now, there's a walking bridge, which is aptly called the peace bridge, and there's a natural flow of the community from one side to the other. I'm all about trying to build bridges where we can and how we can, because I have seen firsthand how that can drive society apart. It's a fragmented time that we're living in. There seems to be so much hurt and fear and suspicion. We hope and pray that people will start recognizing that we all belong to each other."
To listen to my full interview with Roma Downey, click on the podcast link: