'Touched by an Angel' star reveals the spiritual tools that have helped her endure great loss.
Actress and producer Roma Downey may not be a member of the heavenly host like Monica, the character she portrayed for nine years on the hit TV series Touched by an Angel, but she has lived a life that is deeply connected to God — and she continues doing her best to serve as one of His messengers.
That certainly holds true in her new memoir Box of Butterflies: Discovering the Unexpected Blessings All Around Us. Roma reveals the ways she continues to be affected by her mother's death many years ago, the lessons about love and peace that she learned growing up in Ireland during "The Troubles," the spiritual habits she's developed to focus her mind on God throughout the day, and her mission to use media to spread stories of hope and faith through Lightworkers.com.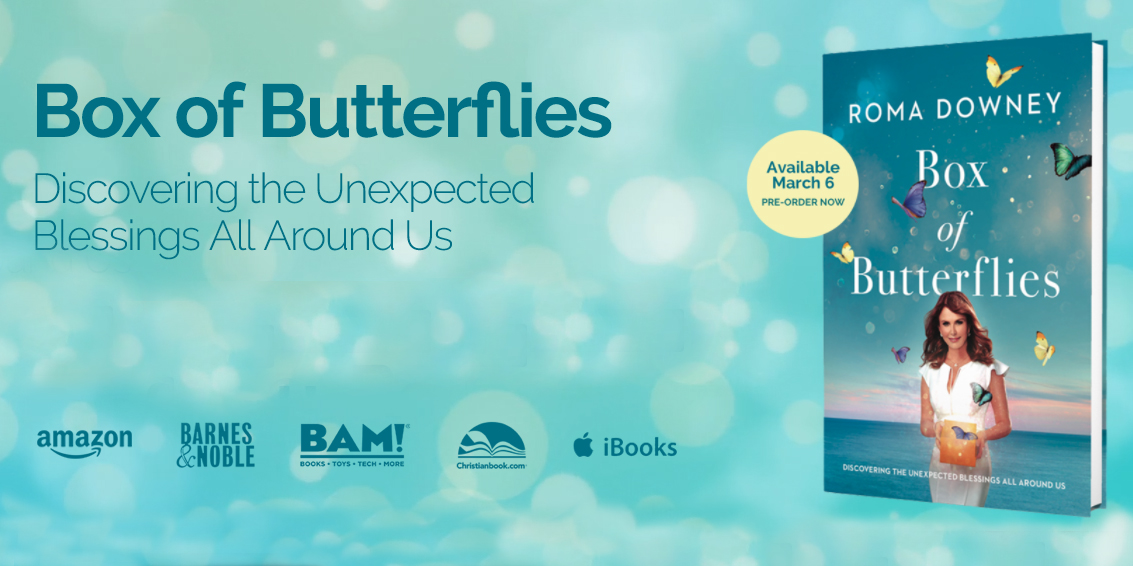 During an interview with me on "Christopher Closeup," Roma recalled her mother Maureen's shocking death from a heart attack a week before Roma's 11th birthday: "Nothing could have prepared us for the absence that her loss created in our lives. It was as if the color had been removed and the lights had been turned out. My father really leaned into prayer to help us cope and get us through that very painful time. Of course, we had the promise through our faith and the hope that we would see our mother again. But I was still just a little girl, and I really missed my mom."
It was the first Mother's Day after Maureen's death that Roma developed her lifelong affection for butterflies. She and her father brought pansies to the grave because they were one of her mom's favorite flowers. Suddenly, a real butterfly flew by and her father suggested it could be a sign from her mother that she was still with them.
Roma said, "That was sort of the beginning of the butterfly helping create some sort of comfort. But I missed her all through my life … I don't think you can be too old to feel the ache inside of losing someone that you love. I wrote this book hoping it would be a comfort to someone who has experienced loss."