The devil is trying to enslave you with a long list of injuries. Time to let it go ...
Need an idea for Lenten almsgiving?
Help us spread faith on the internet. Would you consider donating just $10, so we can continue creating free, uplifting content?
Make a Lenten donation here
Recognizing and admitting our owns sins is the first step to forgiveness, Pope Francis said today during his morning homily in Casa Santa Marta. But God's pardon comes with a difficult condition: We have to forgive others.
"Accusing ourselves of sin is part of Christian wisdom," the pope said, "not accusing others, but accusing ourselves. 'I have sinned.'"
Francis drew this reflection from today's First Reading, taken from the Book of Daniel, which contains this admission:
For we are reduced, O Lord, beyond any other nation, brought low everywhere in the world this day because of our sins.
The Holy Father said that like Azariah in the First Reading, we should be aware of God's greatness and generosity and our unfortunate response of sin — and this should be the attitude with which we approach Confession.
The pope recalled an anecdote of a women who went to confession with a long list of sins — those of her mother-in-law! The priest interrupted her saying, "ok, now confess your sins."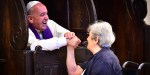 Read more:
Confession with Pope Francis: The 3-step outline for doing an Examination of Conscience


The Lord always receives a contrite heart, the pope continued. "The Lord will hush you, as the father of the prodigal son did," Francis said. "He didn't let his son speak. His love covers it all. Forgives it all."
The Holy Father said we shouldn't be ashamed to admit our sins to the Lord, who justifies us with his forgiveness, not just once but always.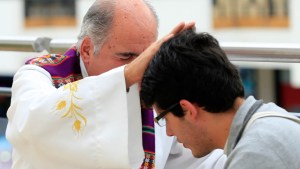 Read more:
Pope's 24-hour confession initiative a worldwide hit
But there is a condition, he said:
"The forgiveness of God comes to us powerfully with the condition that we forgive others. And this isn't easy, because resentfulness nestles in our hearts and that bitterness is always there.  So often we carry with ourselves a list of the things that people have done to us: 'And he did this, and this, and this other thing …'"
Francis warned against allowing the devil to enslave us with hate.
Instead he said, remember these two things that help us understand the path of forgiveness: "You are a God of wonders and great mercy; unfortunately, I have sinned" and "Yes, I forgive you seventy times seven times, but with the condition that you forgive others."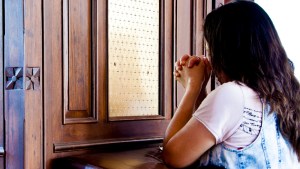 Read more:
The priest ended my confession with this prayer and wow! It's so beautiful!