A little boy's compassion brings joy to his teacher.
Gemma Dunne was pretty distraught at the prospect of putting her dog down, but one of her 9-year-old students knew just how to brighten her day, and the pictures of his sweet gesture have now gone viral on Twitter.
Mum's been so upset about the dog being put to sleep and stressing about having to go back into school today, and she got this from a wee boy in her class 😭😭😭 pic.twitter.com/2qslb572CX

— L (@ldnne_) February 19, 2018
Last week, Gemma had discovered that her family's golden retriever, Charlie, had an inoperable tumor, and he was put down the following day. Still recovering from the loss, she told her class, who were familiar with Charlie from her frequent pictures and stories.
By the end of the day, Gemma had received a poem from 9-year-old Callum to help lighten the load. And when her daughter, Lucie Dunne, shared the pictures, Twitter users across the world responded to offer their sympathy and encouragement.
"The strangest part is that people are calling me as if they know Charlie. Charlie was just our big lovable dog and suddenly the world know who he was," Gemma said.
But the story also provided a teaching moment for her young class. "We talked about what a kind and loving action it was, and how that's the way people should treat each other with kindness. Callum was a little bit embarrassed by the attention."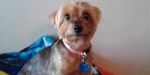 Read more:
Woman hospitalized with a "broken heart" after the death of her dog