Meditation on Hell is an essential practice, especially during this season.
What kind of Lent are you having so far? Keeping your resolutions? Falling, but getting up again? Given up? Not even bothered with Lent this year?
No matter what your Lent's been like so far, it's incomplete without a meditation on Hell.
Meditations on "The Four Last Things" (Death, Judgment, Heaven and Hell) are not as common in Christian discourse and the arts as they once were. Perhaps that's because some depictions of Hell and its occupants are so lurid and grotesque that they invite mockery rather than a kind of holy horror that could lead to repentance. Some say that "a loving God wouldn't condemn people to eternal damnation." And that's almost right, but not quite—we damn ourselves, by our stubborn rejection of God.
Is it really possible to make such an appalling rejection of God and his gifts? Do we truly have the power to act so decisively and comprehensively against our own interests? Consider these words from the poet Elizabeth Barrett Browning, from her A Drama of Exile: "I too have strength – Strength to behold him and not worship him, Strength to fall from him and not to cry to him."
She puts these words in the mouth of Lucifer, who is the role model for sin—a rebellion against and rejection of the authority and love of God. That terrible strength—the strength "to behold him and not worship him," "to fall from him and not cry to him"—is a strength that every human has, one every honest sinner knows that he's exercised. What are the consequences of that chosen rebellion and final rejection of God?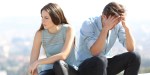 Read more:
Pope says God's pardon is at the ready, but it comes with a difficult pre-req