Developing your child's coping skills is one of the best ways to keep them away from drugs, alcohol, and other risky behaviors.
You can get Aleteia inspiration and news in your inbox. Our specially curated newsletter is sent each morning. The best part? It's free.
Sign up here
At a teen drug prevention program last weekend, the speaker showed a slide listing all the measures parents should undertake to lower the risk of their children getting involved with drugs and alcohol. Along with the more intuitive bullet points, like having open communication and setting a high bar of expectations, was one unexpected one: let your kids be uncomfortable as much as possible.
A light went on for most parents in the room. What a weird thing to include, but in this specific context it made total sense.
Parents of Gen Z (or iGen as they are sometimes called) — me included — are all members of a (flawed) parenting school that tried to make life as easy as possible for our kids, from feeding them the second they were hungry, buying Velcro sneakers that avoided all that complicated lace-tying, defusing potential conflicts at the playground the moment a single voice was raised, to making homework planning, supervision, and execution our second (or third, or fourth) job. Never in a million years would we let our kids get a C on an assignment that we should have been on top of!
"We don't let our kids be uncomfortable enough," the certified substance abuse counselor told the group. "Our natural instinct as parents is to make our kids happy, so we do everything for them. But in doing so, we're robbing them of the opportunity to build the skills they need to weather difficult situations in life, including drugs."
Think about it. Our kids are so used to getting "instant" fixes to everything, whether it's their parents jumping in to solve their problems or make them feel better immediately, or turning to social media for entertainment the second they get bored. That's all just a short step away from trying a substance because they feel pressured by friends or need a fast "release." Bottom line, our kids don't get a lot of practice feeling bad or enduring any kind of suffering, and we're hurting them for it.
Kids need to learn that everyday emotional and physical discomfort is a temporary state — this too shall pass, your friends won't be mad at you forever (and if they are, it's time to get new friends). You can support them, and suggest they say a prayer or talk to God during these stressful times, but don't fix everything for them. The coping mechanisms they use and build during these times of stress will be critical for the more serious things they'll encounter in life.
"So often, we as parents make life so much more difficult on ourselves and confusing for our kids because we don't allow natural consequences to take place (when the results are relatively benign, but instructive) before the natural consequences (like from drug use) become really serious," adds Jim Schroeder, a child psychologist and father of seven. "In essence, we repeatedly interfere with the natural development of understanding cause and effect, and then wonder why our kids seem confused about handling situations that occur every day."
Of course, when it comes to drugs and alcohol and other risky behaviors like sex, brain development plays a big part. Contrary to what everyone believed when we were growing up, a child's prefrontal cortex isn't fully developed until their mid-20s. This is the part of the brain that allows us as adults to say no to that third glass of wine that we know will give us a headache and make us totally unproductive the next day. Kids simply don't have the capacity to think about long-term consequences — they are in the here and now and only concerned with activating the immediate pleasure center of their brains.
So when one of their friends offers them a hit of a vape device to feel good during a time of stress, or to take a sip of beer because everyone else in the room is doing it, what hope do we have to get our kids to make good decisions? This is where being uncomfortable comes in.
It's a hard issue for parents to resolve, especially if your child is older and your parenting and their expectations are seemingly already set — but it's never too late to start introducing a little discomfort, even in simple ways:
Let him fail the test.
Let her feel sad about the breakup.
Don't pick her up just because she's homesick.
Let him go to school in shorts and without a coat in 20-degree weather.
Don't drop the forgotten lunch to school.
Sure, they'll be hungry but they'll survive. They'll learn that they can still make it through the day, even on an empty stomach, and maybe they'll remember to pick the bag off the counter next time (and perhaps even get a lesson in empathy for others who go without food on a daily basis, which wouldn't hurt either.)
So let Operation Discomfort begin. And remember, the longer you can keep your teen or tween from experimenting, their risk of developing a substance abuse problem drops dramatically. In other words, if you can somehow get them to the magic age of 21 relatively unscathed, consider that a parenting win.
(Obviously, this advice does NOT apply if you suspect a deeper mental health or abuse issue — in that case their "discomfort" is something much bigger and more serious and you need to seek help right away.)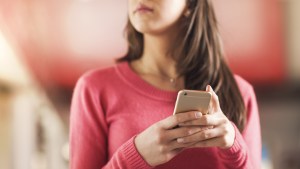 Read more:
The X-plan: Why all parents and kids need one