New research suggests that certain compounds in your favorite drink can boost immune response to viral infections.
What's your go-to homemade cold and flu remedy? Is it a day in bed with chicken soup? A lot of sleep interspersed with a This is Us binge? Hot tea with lemon to pack that vitamin C in? Or maybe even a shot of the traditionally medicinal whisky? Whatever your favored remedy, I bet that red wine isn't on your list. But maybe it should be.
The Independent reported that research from the Washington University School of Medicine has shown that a compound found in red wine helps gut bacteria fight infections, which could potentially help prevent severe influenza.
Published in the journal Science, in their test on mice the researchers explained that flavonoids found in these products worked with a particular gut microbiome – clostriduum oribiscidens — to create a metabolite that boosts the immune response. As a result, flu symptoms lessen and the time it takes to return to health is reduced.
Pretty neat, huh? I think my favorite part about this research is that it isn't really preventative, like eating an apple a day or remembering to take your vitamin D. You can straight-up wait till you feel miserable before popping that cork, because the flavonoid doesn't ward off illness — it just jacks up your immune system to ward off even worse illness.
If you're not a wine drinker, no worries. This particular flavonoid is also found in blueberries and black tea, so the next time you get the sniffles brew yourself a cuppa, or rescue those blueberries that have been languishing in your fruit drawer! You might just be saving yourself from a cold that turns serious.
It would be irresponsible of me not to add the caveat that the potential benefits to drinking wine while battling the flu are just that — potential. There could be other reasons that wine is not the best source of flavonoids when fighting a virus. This research has not been tested in human beings with influenza. Yet.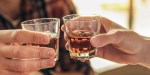 Read more:
The alcoholic drink that's even better for you than wine