This new study showed something fascinating about the brain similarities between friends.
You know those friends who just "get" you? The ones you seem to just click with, without explanation? Some psychologists might have found the reason. Their new study shows that people who are friends have similar neural responses to stimuli, a similarity that decreases the further removed the acquaintance.
In the first study of its kind, researchers at Dartmouth College studied neural responses to watching video clips and compared them between graduate students who fell into three relational categories: friends, second degree relationships (friends-of-friends), and third degree relationships (friends-of-friends-of-friends).
Each of the students watched the same sequence of videos covering a wide range of topics while their neural activity was tracked with functional magnetic resonance imaging (fMRI). The similarity in responses was the most evident between friends, even after accounting for sex, race, and other variables. The similarity wasn't limited to one area of response either, but included high-level reasoning, emotional response, and attention.
The study attempts to access our involuntary perception of the world, a response that cannot be willfully chosen in the moment. The lead author of the study, Dr. Carolyn Parkinson said, "Neural responses to dynamic, naturalistic stimuli, like videos, can give us a window into people's unconstrained, spontaneous thought processes as they unfold."
Though the similarity is evident, the researchers say they cannot determine whether we select friends based on the similarity or grow in similarity through our friendships. It may be a combination of both. Either way, our brains don't develop in isolation. They're constantly learning and re-learning from those with whom we surround ourselves.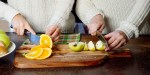 Read more:
Want to connect with friends in a more meaningful way? Try this offbeat idea