Prelates from persecuted country hoping to establish Catholic university
This week, Pope Francis received the bishops of Vietnam on their regular visit to the Vatican. During his audience with them, he asked them to "bring the joy of evangelizing to the Church in Vietnam," said Bishop Joseph Dinh Dúc Dao, of the diocese of Xuân Lôc.
This joy of evangelizing, said the Successor of Peter, is that of the "shepherd with the odor of his flock." To that end, he asked them to remain always close to the Lord in prayer, but also to the people and the priests in their dioceses.
Tragedy struck the bishops during this trip to Rome, as one of the prelates suffered a stroke the day after the meeting with the pope, and died in the hospital. Pope Francis celebrated Mass for him on Thursday at the Casa Santa Marta.
The archbishop of Ho Chi Minh City, Paul Bùi Văn Đọc, was concelebrating a Mass with the 32 Vietnamese bishops in the Basilica of St. Paul Outside the Walls when he suffered the stroke. Despite the efforts of doctors and nurses, he died later at San Camillo hospital.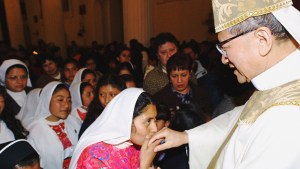 Read more:
Heroic virtues of Vietnamese cardinal celebrated in Rome


Read more:
How to Help Priests Smell Like Their Sheep


A Catholic university?
Bishop Dinh Dúc Dao said that the Vietnamese bishops have asked the Holy See to create a Catholic university in their country, which does not yet exist because of discrimination against Catholics.
Bishop Dinh Dúc said he wanted to stimulate "enthusiasm and trust" so that an "open atmosphere" would allow the creation of this university.
Vietnam is one of the 13 states that does not have bilateral relations with the Holy See. Last August, Bishop Leopolodo Girelli, then a non-resident representative of the Holy See, accused the Communist government of undermining religious freedom.
Read more:
The threat to religious freedom: What challenges face the Trump Administration