He was a master of accomplishment despite constant uncertainty, and this is how he dealt with it ...
Every year on March 17, St. Patrick is celebrated by massive crowds of people wearing green and drinking too many pints of Guinness. But St. Patrick was a more serious saint than modern revelry suggests: He changed the course of history in Ireland. Patrick has so much cache that even though March 17 often falls in the middle of Lent, everyone pretty much takes a day off in his honor.
Given how universally beloved Patrick is, the first sentence of his autobiography is very surprising: "I am Patrick, a sinner, most unlearned, the least of all the faithful, and utterly despised by many." Despite his many accomplishments and his storied place in history, Patrick was notoriously self-doubtful.
As a young man living in Britain in the 4th century, Patrick was kidnapped and sold into slavery in Ireland, an event that he, rightly or wrongly, seems to think he deserved as punishment for his flaws. Perhaps living as a slave for so many years colored his opinion of himself — it's hard to know — but in his autobiography, called Confessions, he repeatedly refers to himself as "stupid," "unlearned," and "unworthy." Patrick struggled with self-doubt his whole life, and yet Confessions refers to moments of triumph, gratitude for life, and achievements beyond what anyone could imagine is possible.
How did Patrick accomplish so much even as he struggled with self-doubt? A deeper look at this life allows us a window into the ways he did this and how we can, too:
Be rigorously honest
Patrick writes, "Although I am imperfect in many things, I nevertheless wish that my brethren and kinsmen should know what sort of person I am." People who struggle with self-doubt tend to not be honest with themselves. They have a distorted view of their own value and abilities. Patrick may share this tendency, however, he fearlessly inventories his life and actions as honestly as possible. This means not only revealing his imperfections but also his successes.
Maintain an inner monologue
When doubt creeps in, it's important to not allow it to take control of your thoughts. By switching to a positive, encouraging inner monologue, you can disrupt the unwanted thought pattern. Patrick does this when, even as he admits that he isn't as smart as the people who will probably be reading his words, he'll write his thoughts down anyway in the hopes that it will be helpful to at least some readers.
Remember that setbacks are temporary
Patrick was enslaved twice (!) in his life. After escaping the first time and returning to Britain, he felt that it was his duty to return to Ireland as a Catholic missionary. When he returned, he was again made a slave. This time it was only 60 days until he managed to obtain freedom, but what a torturous 60 days that must have been. Even after this second misadventure, he didn't allow the setback to paralyze him and eventually accomplished his goal.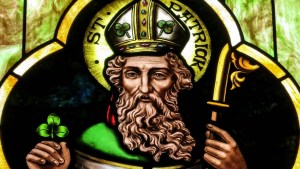 Read more:
Prepare for St. Patrick's Day with this powerful novena
Recall past success
The way in which he was able to more on from his setbacks was that Patrick recalled his successes. His life was not as bad as perhaps his doubts would have led him to believe, and by considering how even though he was "wretched," he was also an "ambassador" for his cause. By remembering how he had managed to overcome obstacles in the past, he overcame doubt and built courage for the next challenge.