She chose death rather than yield to the desires of a Nazi soldier.
Teresa Bracco was an ordinary farm girl born in a rural town in Northern Italy in 1924. She was named after St. Thérèse of Lisieux and possessed a similar childlike simplicity.
Her family fostered her faith at a young age and she was known to pray many rosaries as she went about her daily chores. Every day Bracco would rise early in the morning to walk to Mass and often became entranced by Jesus in the Blessed Sacrament, staring at the tabernacle for extended amounts of time.
After learning about St. Dominic Savio she adopted his motto for her life, "Death rather than sin." She kept a picture of the saint hanging over her bed that inspired her on a daily basis.
Then one day in 1944 Bracco was out in the fields when she heard gunshots. A few people ran past them and urged her and her sisters to take cover. The Nazi soldiers quickly found Bracco hiding in the field and one of them carried her to the forest with the intent to rape her.
She was defiant in her resistance and the soldier became increasingly angry with Bracco. He then shot her twice and left her body in the forest. The local priest searched for her remains and brought her body to a doctor, who confirmed what happened. Bracco died at the age of 20.
St. John Paul II beatified her in a visit to Turin in 1998 and pointed to her as a powerful example of faithfulness.
That courageous stance was the logical consequence of a firm desire to remain faithful to Christ, in accordance with the intention she had several times expressed. When she learned what had happened to other young women in that time of turmoil and violence, she exclaimed without hesitation: "I would rather die than be violated!"
In his homily John Paul II then lifted her up as an inspiration to all young people.
What a significant Gospel witness for the young generations who are approaching the third millennium! What a message of hope for those who are striving to run counter to the spirit of the world! To young people in particular, I hold up this young woman whom the Church is proclaiming blessed today so that they may learn from her clear faith, witnessed to in daily commitment, moral consistency without compromises and the courage of sacrificing even life if necessary, in order not to betray the values that give it meaning.
She stands with St. Maria Goretti as a patron of rape victims.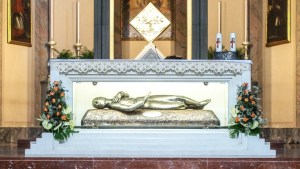 Read more:
Devotees of Maria Goretti will love Pierina Morosini